Change is possible, just ask Sarah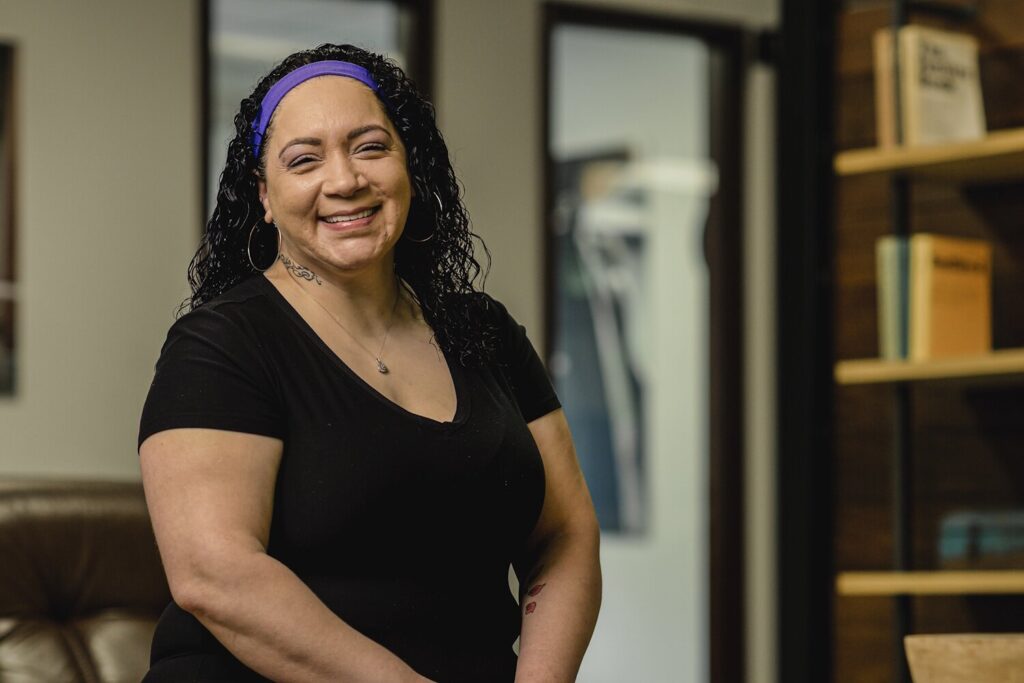 When Sarah sets her sights on a goal, she'll inevitably be successful. Being resourceful and determined has served her well. Sarah joined Pallet as a Manufacturing Specialist at the beginning of the year. Joining the team was a full-circle moment. She vividly remembers seeing our shelters in downtown Portland a couple of years ago. In a short time, Sarah has made an impact. Working in the factory was a bit of an adjustment at first, particularly standing on her feet for long hours. Still, she got used to it and quickly excelled at the various steps of building Pallet shelters.
"They were bouncing me around to all the stations, and the supervisors kept saying, 'normally people need to stay at a station for a certain amount of time before we move on, but you're learning really quickly,'" she shared. "It helped give me that motivation and confidence."
Within a few months, Sarah was promoted to Customer Service Coordinator, a new position on the Community Development team. She's the point person for customer concerns and coordinates assistance for prompt resolution. Sarah first heard about the job opening at a company-wide meeting. Pallet's Human Resources Director encouraged her to apply.
"I guess the fear of rejection played a major part of why I was hesitant," Sarah explained. She pushed through any doubts and decided the worst that could happen was she wouldn't get the job. But an upside would be others would know she's interested in a promotion. Since moving into the position, she's leveraged her connections already built with other teams to streamline the customer support process.
More than 80 percent of Pallet's team members have experienced homelessness, substance use disorder, and/or the criminal justice system. We believe people's potential — not the past — defines a person's future. Sarah and others have found stability through purposeful employment at Pallet.
Sarah earned a cosmetology license, certificates in early childhood education, and a degree in small business management entrepreneurship from a local college. She achieved these milestones after becoming a mother in her late teens.
"I worked also as a Montessori teacher, and I worked for Everett Public Schools, and I was a paraeducator. Then I taught middle school math," Sarah shared. She and her former partner also opened an afterschool education company where they served about 150 families. "We tutored low-income families through the no Child Left Behind Act. It was a neat experience, fun, and most of all rewarding. To know that I was part of a village in that child's life will be everlasting on my heart."
Sarah's warm smile and welcoming personality made it easy for her to connect with kids. She was doing well, but things took a turn after pain from an old injury came back. She went from taking medicine as prescribed to becoming addicted. She continued working and maintained a "normal" outward appearance. When she began using other substances, her life unraveled rapidly. She lived on the streets in her hometown of Everett, Washington, then later in Portland, Oregon.
"The winters and the rain were definitely the hardest, of course, because you're so cold and you're so wet. And then to be able to find dry clothes from whatever garbage can or from wherever you can find them," Sarah explained. "I've had to escape from fires from inside the tent because we'd fall asleep, and the candle would get too hot through the glass because it would be burnt out. Then that would heat whatever to catch on fire."
Sarah essentially disappeared for about two years while in Portland, but her mother tracked her down. When they reunited, Sarah reconnected with her family and three children. Shortly after returning to Washington, she entered treatment in January 2021. After treatment, she moved into a recovery house. She began an internship at Kindred Kitchen, a social enterprise creating stable futures by offering hands-on job training to formerly homeless and low-income individuals who need a fresh start. Sarah described the café as a supportive environment.
"I learned a lot. Even the most simple thing, like how to dice up an onion without the whole thing just falling apart everywhere," she shared. "It was a good transition from going crazy to not doing anything to then that to then this [Pallet]. It helped me really transition to the work mentality."
At the end of the internship, Sarah joined Pallet and now lives in her own place. A vital part of the culture at Pallet is embracing everyone no matter what path they've taken before arriving at the company. Sarah said she feels accepted and valued. It isn't necessary to hide her personal experiences. She's thankful for the opportunity to rebuild her life and help others who are facing the same challenges she once did. Sarah is sharing her story to show that change is possible. She cautions others not to criticize our neighbors who are living unsheltered. 
"You don't know everybody's path or journey, and you don't know how they got there. So try not to judge them and try to be part of the solution rather than just be somebody who looks down on them," she added. "There is hope for people to change. And people will change with the willingness and the support from the community and from others. They can do it, so just have faith that it can happen."