Daniece builds Pallet shelters and helps others in recovery
October 6, 2021
Daniece joined the Pallet team as a manufacturing specialist in 2020 and is thriving in a supportive environment.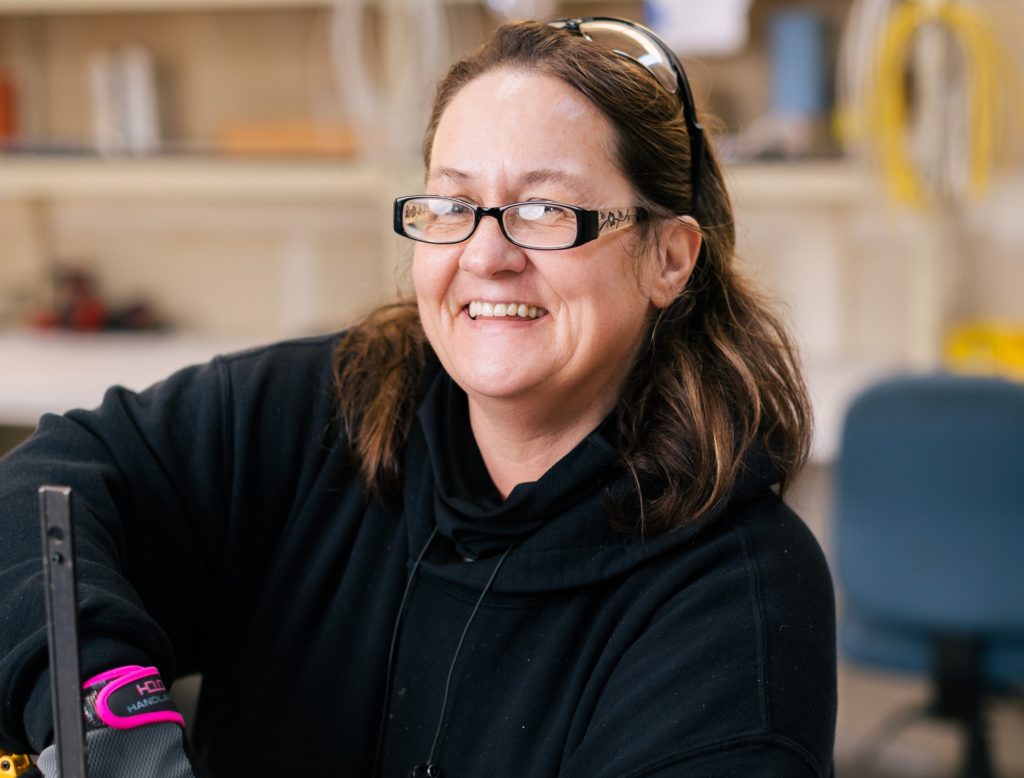 For the last three years, Daniece has been committed to self-improvement. She works full-time at Pallet as a manufacturing specialist, manages two homes for people in recovery, and is mending relationships. She's showing her family she's back in their lives for good.
The path Daniece is now on began when she was incarcerated. While serving a sentence, she enrolled in an intensive substance use treatment program. It ended up being a transformative experience. The approach required her to get up at 5 a.m. and attend group meetings. She also received counseling, motivational interviewing, and recovery-focused skill building. Daniece completed a relapse prevention exercise which she described as scary.
"They made you plan your next relapse. Plan, how you're going to get it, how much you're going to get, how you're going to use it, what you're going to do with it and how long you think that's going to last," Daniece explained. "Then, when you're done with that, what's going to happen?"
Daniece said she experienced anxiety and stomach aches throughout the planning process.
"But they do that to build a new pathway in your brain," she shared. "After you present that, then you know you don't ever want to do that."
From there, Daniece progressed in the program and even became the big sister to another inmate. She provided support and helped guide them through the treatment process. They formed a bond and they're still in contact. Daniece says the program helped build self-esteem, and learned a lot about herself as well. Discovering her learning style was eye-opening.
"Some people can read. Some people need to write it down. Some people can watch somebody else do it," she shared. "But for me, I physically have to do it with my hands in order for me to comprehend it. Which I didn't pinpoint that before, so it just makes it easier for how I learn now."
While incarcerated, Daniece connected with The If Project. The nonprofit organization collaborates with currently and formerly incarcerated adults, community partners, and law enforcement focused on holistic intervention and reducing and preventing incarceration and recidivism. They suggested she apply for a position at Pallet after her release. As a second chance friendly employer, we believe potential — not the past — defines people's futures. More than 80% of our employees are formerly homeless, in recovery, or previously involved in the justice system. Daniece joined the team in 2020 and is thriving in a supportive environment.
"We just give our all to it. It's rewarding because it's going to the homeless people," Daniece said. "Somebody could offer me more money to go someplace else. And I wouldn't because this is a rewarding job for me."
Daniece also experienced homelessness for about a year and is sure if she had the chance to live temporarily in a Pallet shelter, it would've made a difference.
"Shelter over my head and a place to put my things and possibly sleep without worrying about everything. I know I could've done a lot more for myself. I wouldn't have had to go to prison to realize that. That's why the shelters are super rewarding for me."
While in treatment Daniece created a vision board which outlined various goals she created for herself for the next five years. It included paying off fines and buying a car, which she accomplished in just one month. She's proud of her accomplishments and is continuing to work towards personal development.
In addition to working at Pallet, Daniece is training to become one of the coaches at Recovery Café, a refuge for healing and hope for people traumatized by homelessness, substance use, and other mental health challenges. Plus, she's on The If Project's council.
"I took a lot from the community," Daniece shared. "I'm in a position where I want to give back now."
More on Pallet's employment model:
Five tips to become a second chance employer
FAQ's about becoming a second chance employer
Resume Not Required