Debunking Myths: Homelessness is a personal failure
October 14, 2021
The false belief that homelessness is a personal failure implies people living on the street have done something wrong to cause their misfortune.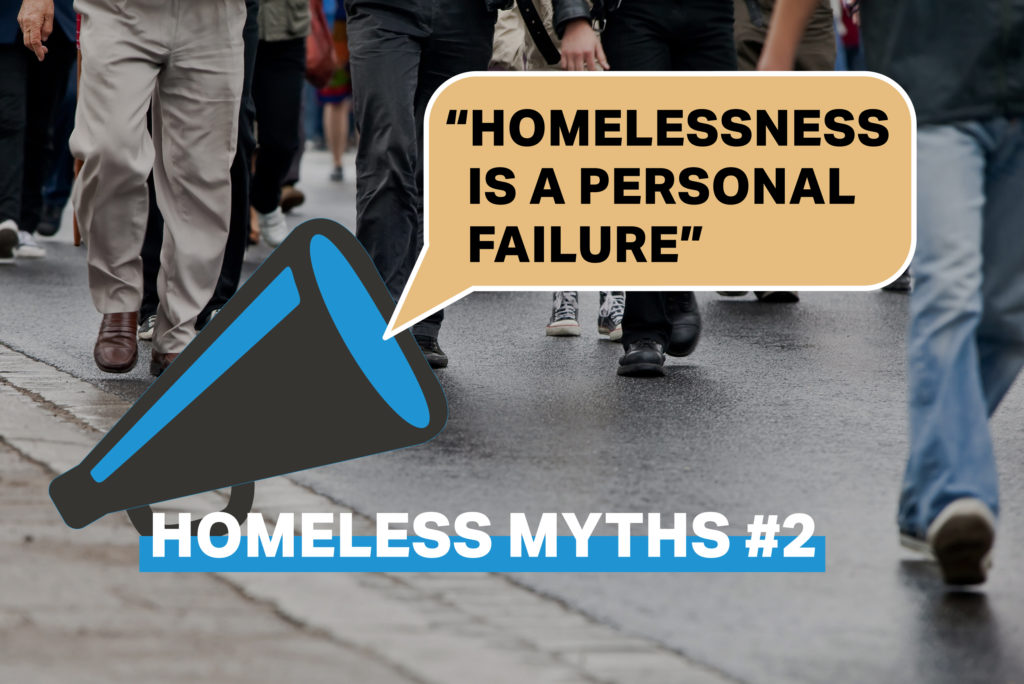 One prevailing view of homelessness is that it's a personal failure. The false belief implies people living on the street have done something wrong to cause their misfortune. This view doesn't recognize structural issues that can inhibit one's ability to keep their head above water. It's not uncommon to hear, "homeless people are all on drugs" or "homeless people are all mentally ill." These statements aren't true.
Data and surveys show economic factors — such as losing employment — are the leading cause of homelessness from urban to rural areas. The most recent count by the Department of Housing and Urban Development shows there are 580,466 unhoused people across the country. No one is immune to falling on hard times, a fact highlighted by the effects of the coronavirus pandemic.
This post is part of a series that debunks homelessness myths. In part one, the "they're not local" myth is addressed. Following is a look at factors contributing to homelessness.
Economic Conditions
A 2020 Greater Los Angeles homeless count showed 59 percent of people experiencing homelessness for one year or less cited economic hardship as the main reason for their loss of housing. This was followed by a weakened social network (39 percent) and disabling health condition (24 percent). Respondents were able to choose more than one reason.
Sixteen percent of people surveyed during a 2020 point-in-time count in King County, Washington, showed losing a job as the reason for their homelessness. Other economic-related reasons included: could not afford rent increase (8 percent); eviction (5 percent); foreclosure (1 percent); totaling 30 percent.
A 2018 Council on Homelessness report from the Florida Department of Children and Families states, "most people who become homeless in Florida have extremely low incomes making it difficult to maintain stable rental housing." The report lists three primary factors contributing to homelessness in Florida: lack of access to housing, need for employment and income opportunities, and inadequate access to health care.

The Council on Homelessness report highlights how lack of affordable housing and poverty are intertwined components of the homelessness crisis. Homelessness rates rise faster in cities where residents spend more than one-third of their income on rent. In only 7 percent of all U.S. counties can a full-time minimum wage worker afford a one-bedroom rental home at fair market rent, according to a 2021 National Low Income Housing Coalition report.
Additional factors contributing to homelessness:
Domestic violence
Domestic violence is a leading cause of homelessness for women and children, according to the Washington State Coalition Against Domestic Violence. In a 2014 survey of 25 U.S. cities, 15 percent of all homeless adults were survivors of domestic violence. An ACLU report on homelessness calls attention to the link between domestic violence, poverty, and eviction.
Substance Use
From the Addiction Center:
"The National Coalition for the Homeless has found that 38 percent of homeless people are alcohol dependent, and 26 percent are dependent on other harmful chemicals. Often, addiction is a result of homelessness. The difficult conditions of living on the street, having to find food, struggling with ill health, and being constantly away from loved ones create a highly stressful state of being. Individuals suffering from homelessness may additionally develop psychiatric conditions in response to a harsh lifestyle often characterized by feeling threatened by violence, starvation, and a lack of shelter and love."
A national report from the same year (2017) shows the national substance use rate in people 18 and older was 7.6 percent. This data includes people living in homeless shelters, but not those who aren't.
Mental Illness
From a National Coalition for the Homeless report:
According to the Substance Abuse and Mental Health Services Administration, 20 to 25 percent of the homeless population in the United States suffers from some form of severe mental illness. In comparison, 6 percent of Americans are severely mentally ill (National Institute of Mental Health, (2009).
The list above are just a few of the factors contributing to homelessness. It's a complex issue without a one size fits all solution. Despite the images often associated with the unhoused — an older single male — homelessness also affects families. Black people are four times more likely to experience homelessness because of structural racism. LGBTQ+ youth, people who have been incarcerated, and those with a prior history of homelessness are also at increased risk of experiencing homelessness.
Homelessness can happen to anyone and it isn't a personal failure. Instead, it's an outcome of poverty, a lack of affordable housing, and structural inequality.
PART ONE: Debunking homeless myths: They're not local