Pallet shelters can weather the elements
March 1, 2023
As Pallet builds transitional housing villages across the country, it's crucial our shelters can weather many climates.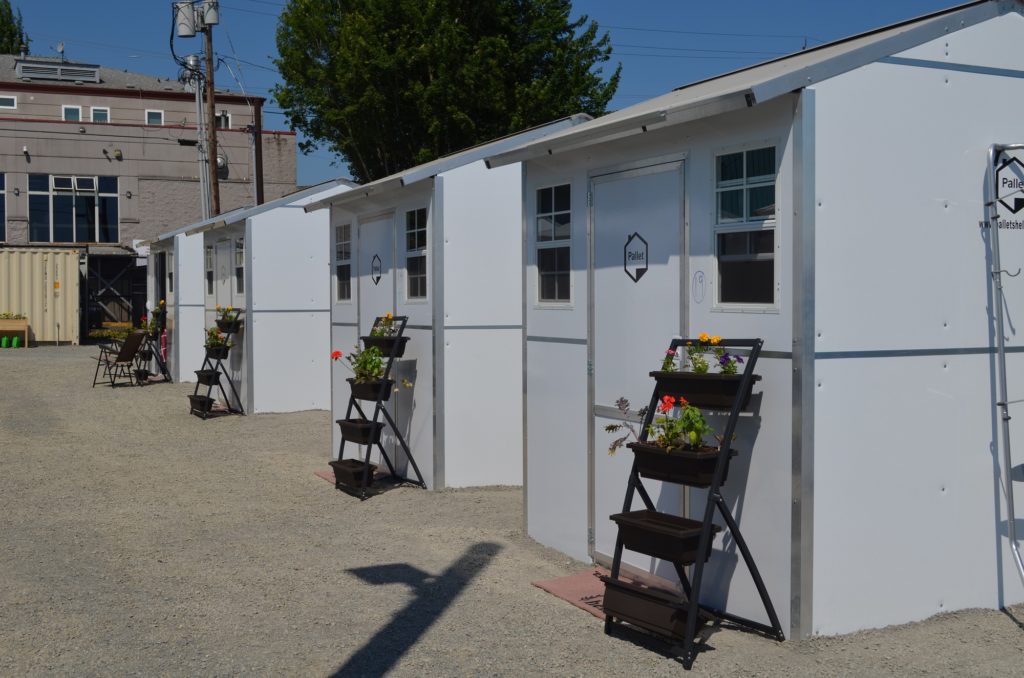 It's crucial that Pallet shelters can withstand various weather conditions—so no matter where in the world our shelters are located, they can handle the elements. To ensure our products can provide proper shelter in extreme temperatures, Pallet's engineering team consistently does performance testing.
Here's a look at how the Shelter 64 and Shelter 100 are designed and tested.
Exterior
Keeping village residents comfortable begins with the exterior. Pallet shelters are composed of seven prefabricated panels that can be assembled in under an hour on-site by our deployment team. These panels are white and opaque with a glossy finish, which reflects the sunlight. Thanks to the reflective nature of the panels that make up the shelters' exterior, they require less electricity to maintain comfortable interior temperatures.
Insulation
Proper insulation is vital in both cold weather and hot temperatures. The exterior panels have a foam insulating core made of expanded polystyrene (EPS). For frigid climates, we offer thicker wall and roof insulation, a 4500-watt heater, and insulation under the floor panel as part of a cold-weather package. In warm climates, air conditioning units can be installed to help keep the shelters cool.
Testing
Our engineering team tests shelter effectiveness in summer and winter temperatures to ensure our design keeps residents at a comfortable temperature.
For cold-weather testing, members of the engineering team brought the shelters to a food storage facility. It had a massive cold chamber that maintained a consistent temperature of -16°F. A consistent temperature is an essential component for proper testing. The team used an infrared thermometer to check the temperature of various surfaces and used thermocouples (sensors that measure temperature) attached to a laptop to record internal and external temperatures throughout the duration of the test.
After gathering the cold chamber test findings, the team performed a reverse test with smoke. This test enabled them to identify the exact locations where even the smallest gap could allow warm interior air to escape the shelter.
Additional design improvements included adding foam seals and insulating the floor for cold-weather climates. With better efficiency comes less energy consumption. Because of the design improvements, a comfortable 70°F can be maintained inside Pallet shelters even when outside temperatures drop to as low as -20°F.
Wind and Snow
Tests for windy and snowy conditions show the shelters can withstand 110 mph wind and a 25 lb./sq. ft. snow load for standard units. Depending on the location, the Pallet team can make adjustments to increase the snow load to 50 lb./sq. ft. and wind to 170 mph. A safety feature that comes with every shelter is hold-down rods at the corners of the unit. These allow the shelter to be secured to the ground.
Always Evolving
We are committed to evolving our products in both big and small ways. Last year, we launched two new categories: Hygiene and Community for a complete village model. We also introduced a small but important addition to our line: a folding desk and table.
At Pallet, we continue to test for efficiency so we can grow and improve our product line.
Read: How Pallet shelters are tested for cold conditions