New Beginnings Pallet shelter village opens in Arkansas
September 24, 2021
The village meets the complex needs of chronically unsheltered people and is low barrier.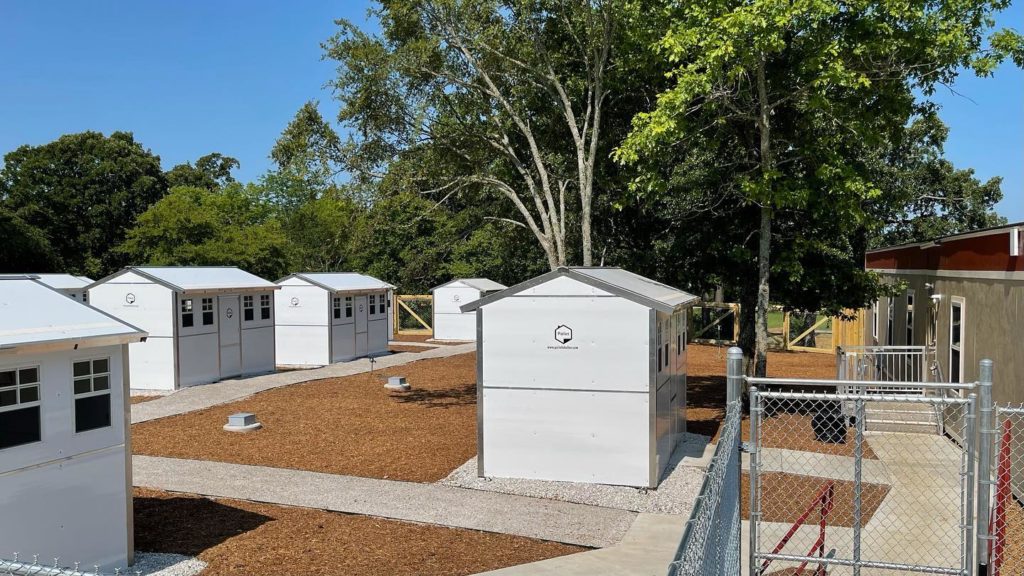 Fresh bedding, USB outlets for personal devices, and a locking door are just a few of the amenities more than a dozen people experiencing homelessness in Arkansas now have access to. This week they moved into New Beginnings, a Pallet shelter village in Fayetteville. A nonprofit bearing the same name is the service provider for the site. The village meets the complex needs of chronically unsheltered people. The village is low barrier — pets, partners, and possessions are welcome — plus residents will have access to trauma-informed care.
New Beginnings staff stocked each 100 sq. ft. Pallet shelter with everything the residents would need for their fresh start. Items include a locking storage bin, homemade quilt, chair, reading light, toiletries, and cleaning supplies. A few pets also moved in with their owners, so there are supplies for them too. It was important for each person not to feel like they were still living in a tent.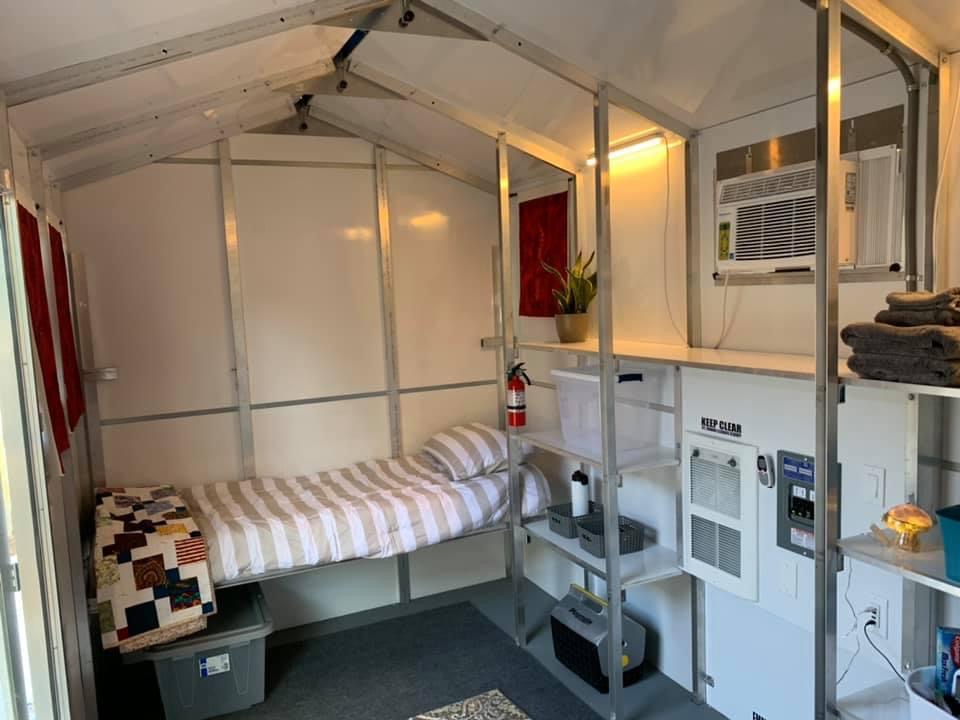 Village features:
● 20 Pallet shelters with locking windows, personal climate control specifically designed for colder weather, custom fit mattresses, and more
● Program building: offices for housing navigator, social worker, medical personnel, and mental health counselors
● Three bathrooms, two are ADA compliant
● Laundry facilities
● On-site meals
● Commercial kitchen
Among all the site's features, New Beginnings board member Kevin Fitzpatrick says the one feature that sets this Pallet shelter village apart is the locking door on each cabin.
"That makes the difference in most of these people's world because the majority of them are coming from a world where they were consumed by who's going to steal my stuff. And what am I going to do with my family heirloom? What happens if somebody assaults me in the middle of the night? Those are all-consuming," he explained. "They are consumed by the issues of safety and security. And people that have trauma in their life, both recently and in the past. That creates a whole other layer to that safety and security. No wonder they are in that circumstance because it just becomes a cyclical nightmare for many of them."
Fitzpatrick is also a University of Arkansas professor and homeless advocate. He understands the importance of accessible housing as he's watched homelessness increase in Northwest Arkansas. For several years he's worked on bringing a transitional housing village to the area. The rigorous process paid off when the Pallet shelters arrived over the summer.
"This project really got a shot in the arm when the Pallet shelters went up," he shared. "Buzz started to happen, and I'm not sure that it did before that. So it really gave people an opportunity to see exactly what we were doing. And I've not heard a single negative word."
Fitzpatrick went on to say each new resident is on a different timeline. Some will move on to permanent housing faster than others, which is expected since everyone is dealing with different circumstances.