Tim's story: From a Pallet shelter village to housing
September 10, 2022
At a Pallet shelter village in Aurora, CO, Tim has access to dignified shelter with a locking door and services.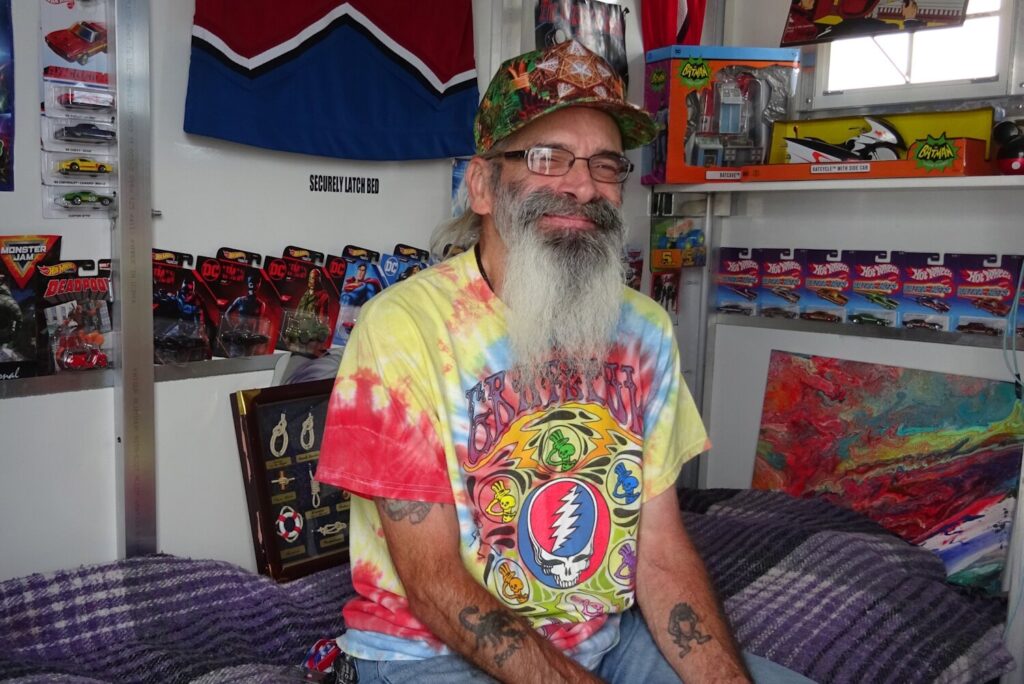 The inside of Tim's Pallet shelter in Aurora, CO, reflects what brings him joy. Denver Broncos and Colorado Avalanche jerseys brighten the space. A replica of a Detective Comics cover with Batman on the front is over the window. And dozens of Hot Wheels line the wall. Some are superhero-themed, while others are sleek racers inspired by real sports cars. Each is still pristine, encased in the original packaging. For Tim, they are much more than a toy marketed to kids.

"That is my salvation," he explained. "That takes me back to a more innocent time in my life where I can just lose myself in Hot Wheel cars. It was easy for me to do it as a kid. It's really easy for me to do it as an adult. They're the coolest things on Earth."

At one point, he had 3,500 Hot Wheels.

"They were my wallpaper in my dining room and kitchen of one of my apartments. I don't have that collection anymore, but I'm acquiring a new one," he added.

Tim is originally from Buffalo, NY, but he's lived in Colorado for years. He became homeless after a series of distressing events. First, he lost his job, then the apartment building he lived in was sold. His lease wouldn't be renewed, leaving him with 30 days to find a new place.

"Covid knocked on our door a couple of months after that, and it's just been one speed bump after another that has culminated in where I am right now," he shared. Tim went on to stay at a mass congregate shelter with hundreds of other people. Next, he moved to the current site known as Safe Outdoor Space (SOS), which has 56 Pallet shelters. "This is way better. You have your own key. You have four walls that you can lose yourself in or whatever, and you can ride out whatever unpredictable in your life, save up some cash and move on to your next step."

Stabilizing in a safe, secure space positively impacted Tim's life. He no longer must navigate what he described as the chaos of being homeless. He's also enjoying independence.

The Salvation Army is the service provider at the site. Tim has been working with staff to take the steps necessary to move on to permanent housing. For example, he now receives income from the state's Old Age Pension Health Program (OAP), which provides financial assistance to elderly and low-income residents. About a month ago, he received the good news he's been waiting for. The Aurora Housing Authority let him know he was awarded a lifetime housing voucher.

"This voucher is a godsend," Tim shared. "With the little income that I have that the staff here helped me secure, I should be okay."

Because he has a voucher, he's only responsible for a portion of the rent. Now Tim is searching for an apartment to move into, which he's confident will happen soon. He's looking forward to getting back to the everyday life he led before becoming unhoused.

When asked what misconceptions people have about homelessness, Tim points out the absurdity of stereotypes and the assumption that all homeless people are the same.

"Nobody wakes up in the morning and says, 'I want to sleep on a piece of grass this morning. Or when I go to bed tonight, I want to sleep on a park bench or under a table or wrapped around a tree.' This isn't a social experiment," he shared. "The stigma, it's the word 'homeless' that scares the general public into a fit that they don't want nobody around them if they're homeless. We have to eat just like everybody else. We have the right to get our life back in order like anybody else that has a hard time."
UPDATE: At the beginning of October, Tim moved into a one-bedroom apartment, and he couldn't be happier. He credits several factors and a community of people coming together to help him navigate the path back to permanent housing. It includes the Salvation Army caseworkers, the Aurora Housing Authority, which granted him a housing voucher, and the ability to live in a Pallet shelter. Tim is grateful that he's now in a position to help others. He also has plenty of room for his Hot Wheels collection.