Breaking the cycle of homelessness in Aurora, CO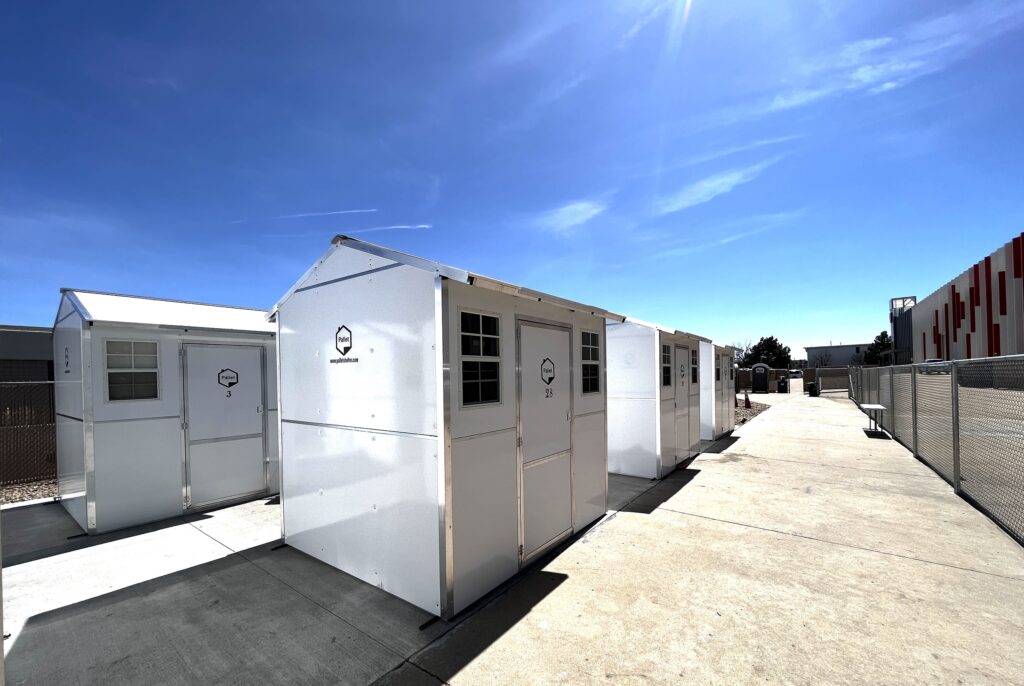 Dignified personal space with a locking door, community, and access to services are critical components of Pallet shelter villages. For the last six months, unhoused people in Aurora, Colorado, have begun recovering from the trauma of living unsheltered. They're now healing in a village run by the Salvation Army Aurora Corps. The Safe Outdoor Space (SOS) has 30 Pallet shelters.
SOS manager Austin Foote described how new residents react when they move in, "There's kind of like this wonderment. 'Is this real? Wait a minute. This is my space? I can come in, and I have food every day, and there's showers here?'" Austin is happy to confirm the village is, in fact, a safe and stable place where they can start the transition to permanent housing.
Austin considers himself an empathetic person and has a strong desire to help others. He thrives in his role at SOS, which allows him to build relationships with others and be of service. Before managing the site, he worked at a congregate shelter. He's seen firsthand the difference when people have a private space.
"Giving someone a safe place to stay and where they want to stay has increased our ability to do services. And to make changes in these people's lives on an immense level," he shared. "Our retention rates are way higher because it's comfortable. There's heating, there's cooling, they can design their place. They can lay it out the way they want. They can lock their door."
Along with Austin, there are two case managers at the site. He says because residents are staying in a set place — rather than moving around, which creates contact challenges — they can make individualized plans. In addition to having their basic needs met, staff assists residents with an array of social services, including securing documentation such as a birth certificate, housing navigation, and job assistance.
Those services offered by the Salvation Army have helped SOS resident Thomas regain stability. He told The Sentinel he's been able to get his driver's license and Social Security card. Now that he has an address, he also found employment. Thomas is grateful for the opportunity. 
The village is a mini neighborhood, with residents hanging out with one another and playing board games with staff. When one person reaches a milestone like getting a job, it positively affects others. Austin says because they're able to see their neighbors' success for themselves, it encourages them to keep working towards their goals.
When SOS opened in July 2021, people initially stayed in tents. The following November, Pallet shelters replaced the tents. Here's a brief overview of the impact of the site from its opening through March 2022.
101 people sheltered
54% of residents obtained employment or employment services
11 people moved into permanent housing
7 family reunifications
72% of residents obtained benefits such as Colorado's Old Age Pension (OAP) program, Social Security Disability Insurance (SSDI), and Supplemental Security Income (SSI)
91% of residents have obtained vital documentation such as an ID, Social Security card, or birth certificate
Because of the success of the first site, local officials opened a second Pallet shelter village last month, which the Salvation Army runs. Austin says other cities have reached out to them to learn how they're helping the unhoused community.
"I think the Salvation Army is changing the way in which homelessness is being looked at here in Denver," Austin shared. "I feel very blessed and proud to be part of a group of individuals in leadership that is really focused on trying to make direct assistance and change, as opposed to just kind of bandaging things."