What happens in a Pallet shelter village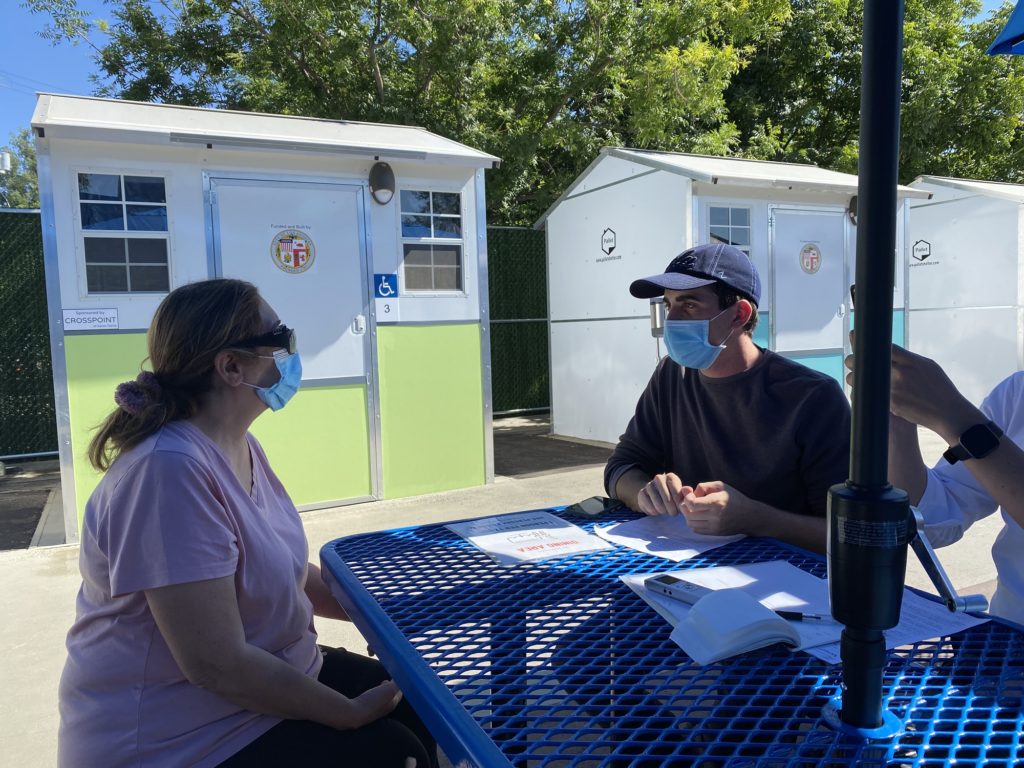 Pallet shelter villages serve as transitional housing communities for people experiencing homelessness. A local service provider operates each village and provides social services, meals, and more.
After an initial assessment and orientation, residents can finally relax and recharge by moving inside a Pallet shelter, a private space with a locking door. Living unsheltered can be disruptive partly because of the threat of being forced to move. It isn't easy — everyone is in survival mode.
Here's some of the services provided at Pallet shelter villages across the country:
Securing documents
People living outside are often subject to "sweeps" of their encampments. During a sweep, anything remaining on the site is cleared away. Campers are given notice, but the length of time they have to move locations varies from city to city. It's common practice for cleanups to lead to the loss of documents, such as an identification card, driver's license, Social Security card, or birth certificate. These documents are necessary for an unhoused person to move into permanent housing. Case managers help residents who need them secure these documents. Because each village has a postal address, the documents can be shipped directly to residents.
Housing navigation
Pallet shelter villages are a place to stabilize before moving on to permanent housing. Navigating the application process or applying for a housing voucher can be challenging. Housing navigators help residents through the steps they need to take, whether for a traditional apartment or supportive housing.
Social services
Being homeless is a traumatic experience, and it takes time to recover. The service providers at our villages offer residents health, mental health, and substance use services.
Sara Allee-Jatta is a clinical substance use counselor in Wisconsin. She's been providing services to residents at our village in Madison. Allee-Jatta recently told PBS Wisconsin, "This is the first time for a lot of people that somebody has been able to just listen without interruption and people can tell their story. So there's a lot of people that just want to come in and be heard and just talk."
Job assistance
It's estimated about 25 percent of people experiencing homelessness nationwide are employed. Job assistance is available for those staying in our villages who don't have a job. One barrier to employment is not having an address to put on a job application. Staying at one of our villages eliminates that obstacle. John, a former Pallet shelter village resident, is now housed thanks in part to being connected to a job as a forklift driver.
Veterinary visits
According to the National Alliance to End Homelessness, 1 in 5 people experiencing homelessness don't accept shelter because their pets can't join them. Unlike traditional shelters, pets are welcome at Pallet shelter villages. Just like their humans, fur babies need care too. In Los Angeles, Dr. Kwane Stewart and his team at Project Street Vet stop by our villages to perform checkups on the pets.
Celebrations
While everyone living in Pallet shelter village is working on moving toward the next step, it's important to celebrate the milestones in between. Whether it's getting approved for Supplemental Nutrition Assistance Program (SNAP) benefits or receiving a birth certificate in the mail, it's worth highlighting. At Riverside Cabin Village Shelter, residents develop their ideas for activities — one being the construction of vision boards, a collage of images affirming one's desires and dreams. Celebrations are a way to keep everyone's spirits up and support each other in their journey.
Community is one of the cornerstones of Pallet shelter villages. Our villages are places to bring people together for joy, healing, and growth.