Building community at Westlake Village
March 31, 2022
Helping one another, sharing positive feedback, and celebration are cornerstones at Westlake Village in Los Angeles.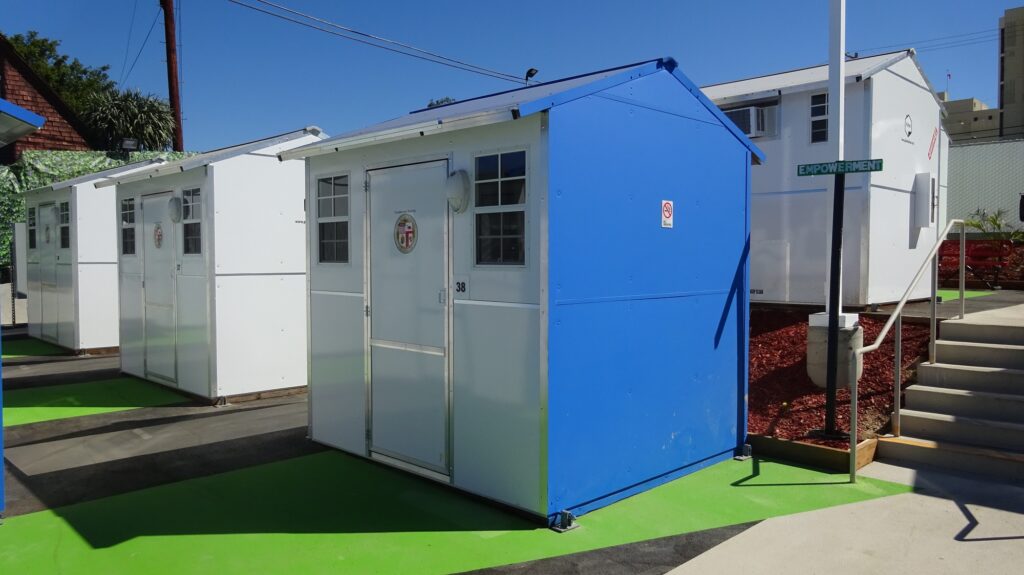 Two photos hanging from a fence greet visitors when walking into Westlake Village in Los Angeles. One has a placard underneath reading "Guest of the Month." The other is titled "Employee of the Month." The rotating designation encapsulates the spirit of the village and its values – building community, sharing positive feedback, and celebration.
The community of 60 colorful Pallet shelters and street signs is a transitional place for people experiencing homelessness. Residents have access to a resource net of social services, meals, hygiene facilities, laundry, and more. Urban Alchemy (UA) — a social enterprise engaging with situations where extreme poverty meets homelessness, mental illness, and substance use disorder — is the service provider for the site.
"My heart and compassion for the homeless population is huge. I believe that this is my calling," shared Wanda Williams. "We're preparing them now for what may be next."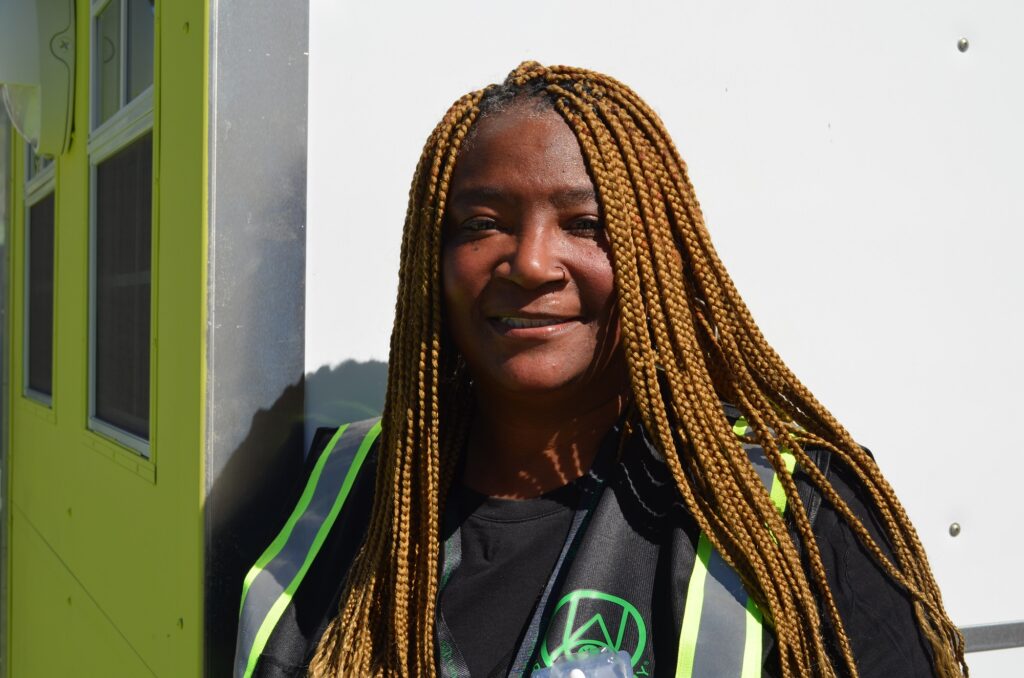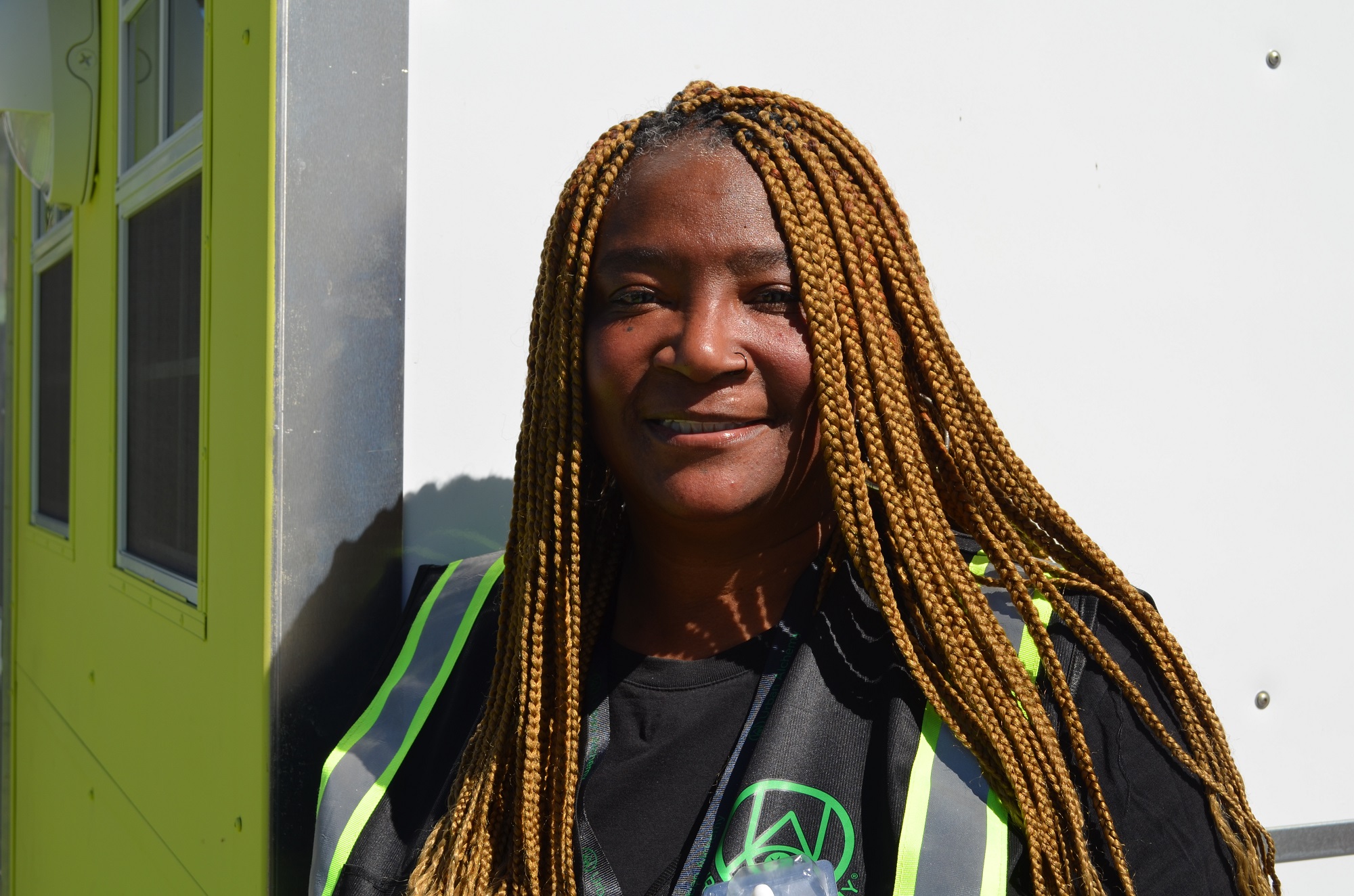 Wanda is the Deputy Director of Residential Services at UA. She helped create a supportive environment for everyone at Westlake. It's important to her that all of the residents know they can reach out to the practitioners (staff members) for anything they need. Wanda describes their role as going above and beyond, shown through regular wellness checks and supporting residents while they work towards achieving their goals. Wanda says providing emotional support — similar to what you'd get from family — is essential for creating a nurturing environment.
"Being out on the street, they don't have somebody to care for them," Wanda explained. "We try to mold and shape it into a whole family setting so that they understand and know that they're loved, that we care, and that we're trying to get them to a new place in life."
Wanda has worked with unhoused people for more than two decades. She began by handing out lunches in her hometown of Philadelphia. The number of people she helped grew from 50 to 100 to 300. In addition to meals, she distributed clothing to those in need. Because of a life event a few years ago, Wanda found herself needing the very help she was used to giving. The death of her mother sent her into a depression. In search of change, she relocated to the West Coast. Later, she became homeless. After staying in a shelter for more than a year, she was able to get back on her feet with the help of what began as part-time employment with UA. Wanda says they saw her potential, and she is now thriving within the organization. Like Pallet, UA values lived experience.
"It's not about a degree. It's about a life experience. The majority of the people who work here, they have been incarcerated. They've been homeless," she explained. "We're able to deal with what they've been through because we've been there."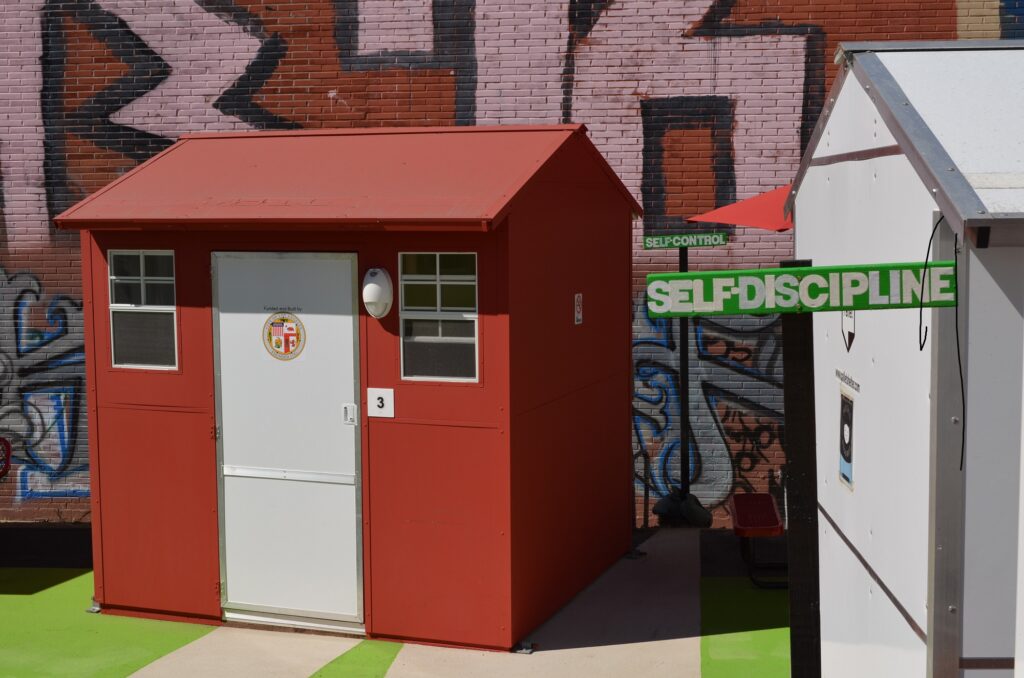 The Pallet shelters are climate controlled, have shelving for storage, windows with screens, electrical outlets to power personal devices, and a locking door. There's also a dog run for pets.
Pranith moved in when the site opened and has personalized her space with butterfly decals. When the company she worked for was sold, she lost her job and became homeless. She lived in a tent before moving into Westlake.
"I'm really thankful for the space," Pranith shared. "Someway, somehow, I got to pick myself up. And this is actually a great opportunity."
She now has a part-time job and hopes to move into her own place soon. Pranith is one of several people at the site who are employed. UA employs some in their programs.
Residents staying at Westlake are working on goals: securing documentation such as a birth certificate, registering for housing, and applying for CalFresh assistance, a monthly food benefits program.
Building relationships is a cornerstone of life in the village. Plenty of outdoor seating makes it easy for everyone to get to know each other. Cookouts are common, and forming bonds is encouraged. During the Superbowl last month, they all gathered around a tv in a common area to watch the game and ultimately celebrated the LA Rams victory.
Wanda says she sees a physical difference after people get settled; they go "from a place of hopelessness to a place of life, a sense of belonging."