Pallet achieves new status: Public Benefit Corporation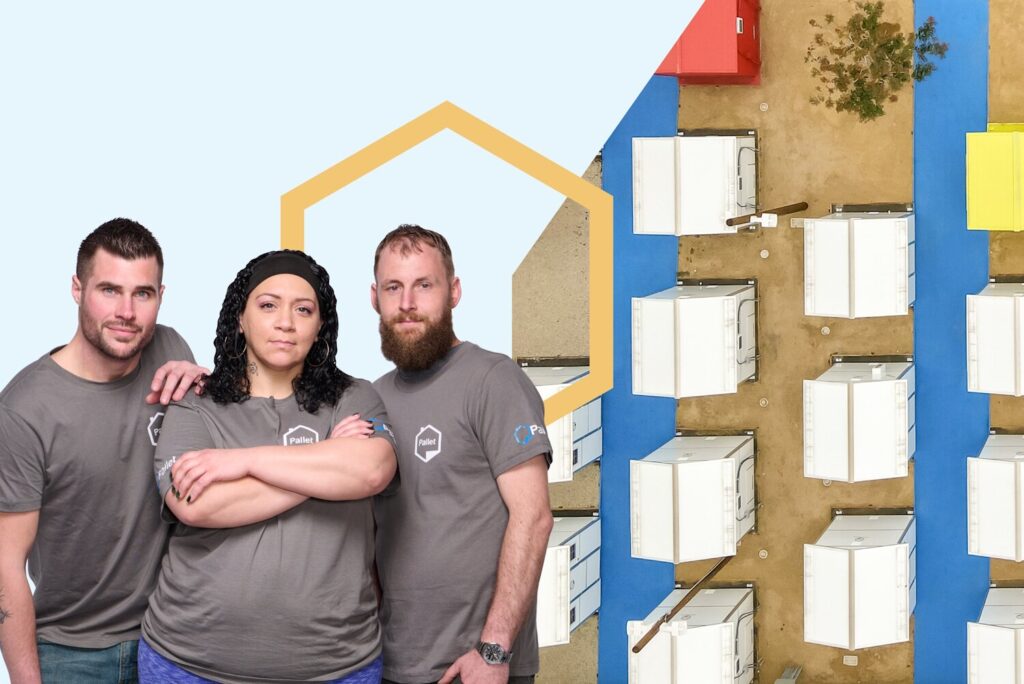 Pallet is on a mission to unlock possibilities by building shelter communities and employing a nontraditional workforce. Our villages for people experiencing homelessness provide the dignity and security of private units within a community. A resource net of on-site social services, as well as food, showers, laundry, and more, helps people transition to permanent housing.
Pallet began in 2016 as a Social Purpose Company (SPC), the Washington state equivalent of a B corporation. As of 2022, we're proud to announce that we've transitioned to a Public Benefit Corporation (PBC). It means we use profitability to expand our impact. As our business grows, the more jobs and shelter villages we can create to end unsheltered homelessness. The change is a reflection of our growth as a company. PBCs are widely recognized across the country. More than 30 state legislators passed PBC statutes to make it easier for private businesses to establish themselves as a PBC or transition to one.
Think of a PBC as a hybrid of a nonprofit and for-profit organization. Our investment partners have allowed us to scale up quickly to meet the needs of the homelessness crisis. Those resources also allowed us to buy materials, secure a factory, and hire a skilled and consistent workforce. Because of our partnerships, Pallet isn't dependent on community donations and grants like a nonprofit. At Pallet, the mission is the driving force, not a substantial return on profits.
With this new status, we've joined other notable companies such as Kickstarter, a global crowdfunding platform focused on creativity, ice cream maker Ben and Jerry's, and clothing brand Patagonia who have all made similar commitments to purpose over profit.
Receiving Certification as a Living Wage Employer
In addition to transitioning into a PBC, Pallet has also received third-party certification as a Living Wage Employer. A living wage is the minimum income standard necessary to afford a sufficient standard of living. The designation from Living Wage for US recognizes our commitment to people. The organization analyzed Pallet's pay and benefits package. They use the Global Living Wage Coalition methodology, which considers several county-based cost categories before certifying a business. It includes geography, family size, workers per family, food, housing, childcare, transportation, healthcare, miscellaneous, resiliency, and payroll taxes.
The base wage at Pallet is $20.39. With benefits, the pay is calculated as $21.28. Washington state's minimum wage is $14.49. The living wage for Snohomish County, the location of our corporate headquarters, is $21.02. We must submit pay and benefits information yearly and maintain compensation levels to keep the certification.
Pallet employees receive annual reviews, and there are opportunities to receive merit increases throughout the year.
More than 80% of Pallet employees are formerly homeless, in recovery, or previously involved in the justice system. It's essential we pay everyone a livable wage and don't inflict further harm on a vulnerable group. People are our most important stakeholders.
Pallet proves business can be a force for good. Our values and the meaning of our name — lifting others up so they can be their best selves — is the company's north star.