Pallet is a certified Living Wage Employer
June 1, 2022
As part of our commitment to creating sustainable jobs, we're proud to announce Living Wage for US certified Pallet as a Living Wage Employer.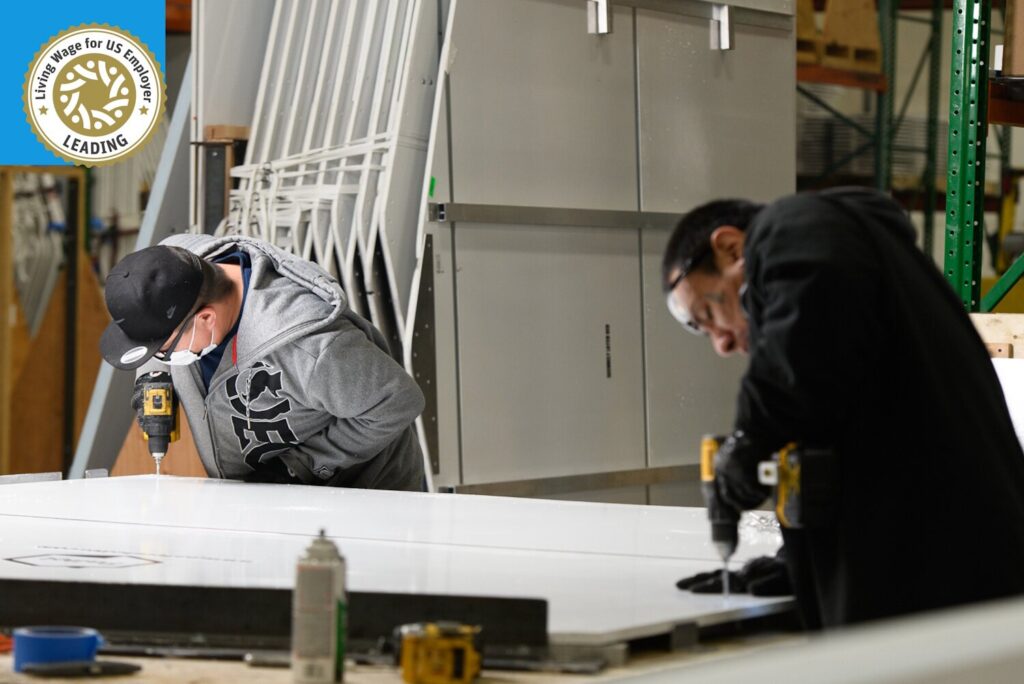 Investment in human potential is a core component of our mission. People who live in Pallet shelter villages are a part of a community where they have access to a resource net of social services, which enables them to transition to permanent housing. We've created a purpose-driven environment where employees are supported and learning is encouraged.
As part of our commitment to creating sustainable jobs, we're proud to announce Living Wage for US (For US) certified Pallet as a Living Wage Employer. The nonprofit organization granted the status after analyzing Pallet's cash wages and benefits paid to employees. They specifically examined the lowest potential cash wages guaranteed to workers. Third-party validation is another step for us to show business can be a force for good.
A living wage is the minimum income necessary to afford a sufficient standard of living. When someone earns a living wage, they can cover basic necessities such as food, housing, and child services. Meeting this standard is one step toward reducing housing and food insecurity. According to For US, more than half of American workers don't earn enough to support themselves and their families at a basic level of decency from a human rights lens.
According to For US, these are the some of the benefits of paying a living wage:
A household can afford heat without sacrifice
Food insecurity decreases
Fewer workers receive public assistance
Workers can save for unexpected events
Methodology
When calculating whether a company can be certified as a living wage employer, For US analyzes the following county-based cost categories:
Geography
Family size
Workers per family
Food costs
Housing costs
Childcare costs
Transportation costs
Healthcare costs
Miscellaneous (ratio of other expenses to food and housing)
Resiliency (buffer for unexpected circumstances)
Payroll taxes
The base wage at Pallet is $20.39. With benefits, the pay is calculated as $21.28. Washington state's minimum wage is $14.49. The living wage for Snohomish County is $21.02. We must submit pay and benefits information yearly and maintain compensation levels to keep the certification. Pallet employees receive annual reviews, and there are opportunities to receive merit increases throughout the year.
Why paying a living wage matters at Pallet
More than 80% of Pallet employees are formerly homeless, in recovery, or previously involved in the justice system. It's essential we pay everyone a livable wage and don't inflict further harm on a vulnerable group of people. Paying a livable wage positively impacts the employees and the greater community. In addition to a livable wage and benefits, Pallet employees also have access to life skills training and personal support services.
For US has also certified Olympia, Washington-based Olympia Coffee Roasting Co., Well-Paid Maids home cleaning company, and the Center for Progressive Reform.