Pallet's origin story
May 3, 2022
How Pallet went from a prototype to more than 70 villages addressing unsheltered homelessness in six years.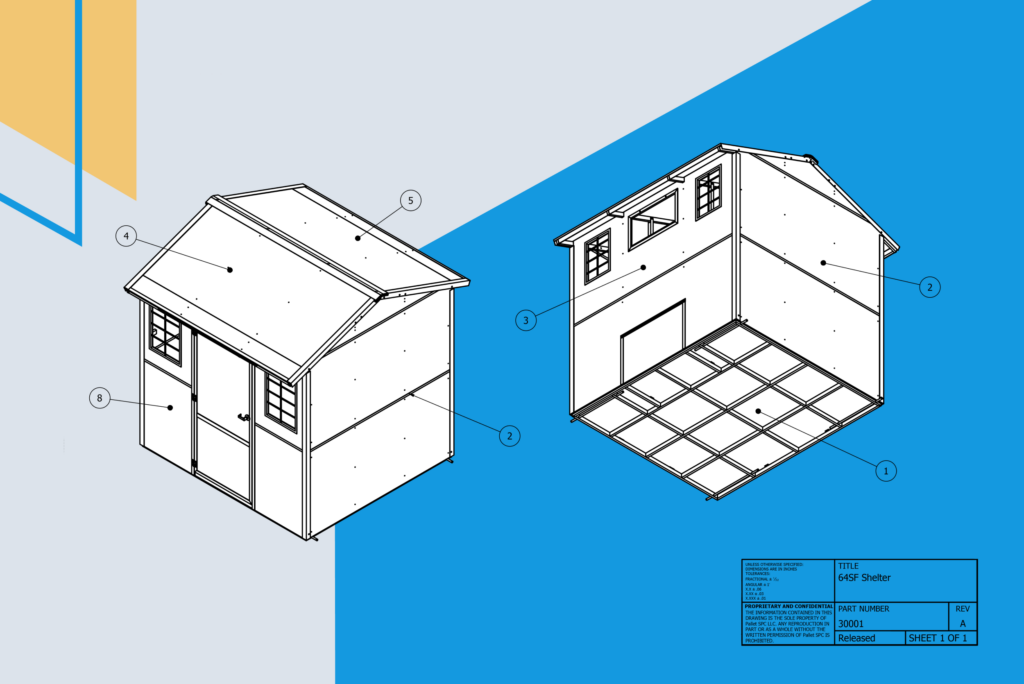 Pallet manufactures rapidly deployable shelters for displaced populations. There are more than 70 Pallet shelter villages across the country for people experiencing unsheltered homelessness. Residents have a safe, private, and personal space with a locking door, plus meals, showers, and laundry. An on-site service provider also delivers an essential resource net of social services. This month marks six years since we started this journey to address a growing crisis.
Initially, the idea was spurred by Hurricane Katrina. Pallet co-founder and CEO Amy King and co-founder Brady King watched the devastation from the storm in shock. After seeing images of thousands of people in the Superdome — a football stadium turned emergency shelter — they thought the hurricane victims needed better options. Later, Brady brought up the idea again with disaster in mind. This time with more details.
"It was very specific. It needs to be lightweight, so you can airdrop it by military helicopter. It needs to be panelized, so it's easy to set up. It's got the foundation built-in, so you don't have to pour a foundation or excavate the site," Amy recalled. "I said, 'That's actually a really good idea. What you're talking about makes a lot of sense. We should build it.'"
Many of those initial elements are still present in the current design.
At this point, Amy and Brady had moved back to Seattle and started Square Peg Construction. They often talked about how expensive it is to build housing, how long it takes, and the growing number of unhoused people. Amy wondered if Brady's shelter idea would be helpful. After all, homelessness is a disaster, albeit a personal one not caused by Mother Nature.
They discussed the idea with employees of their construction company, many of whom had been homeless. The team thought it was a great idea, and identified its potential to help people who are living unsheltered. Their hard-earned insight helped us see the value in creating an alternative to the options unhoused people have to choose from.
Next, the two reached out to Zane Geel, Pallet's recently retired Director of Engineering. Zane took some time to figure out how to make it a reality. Rather than wood, the shelter panels would be made up of alternative construction materials. Pallet was born with an initial investment of $40,000 of personal funds. Zane built the prototype in his backyard. After design adjustments and hiring staff, the first Pallet shelter was ready. The team took it to an emergency response trade show in Tacoma, Washington, a city about 60 miles south of our headquarters.
"We were a little nervous about entering the marketplace with our product in homelessness. We thought disaster would be a better entry point," Amy explained.
They met Tacoma officials who were interested in the product because the city had just declared a homeless state of emergency. A few days later, they hosted an additional demonstration with city leaders. A week later, Tacoma placed an order for 40 Pallet shelters. They were ready to take an alternative approach to address unsheltered homelessness.
After receiving the call, Amy delivered the news to the team, "I walked in, and I saw Zane, and I just immediately started bawling. And I was like, 'We got it! We got our first sale. We sold 40 shelters to Tacoma.' And then he started to cry. And then everyone else in the room started to cry. And I was like, 'Oh, my God, we're going to do this thing.' It was so exciting."

Since setting up the village in Tacoma, Pallet has grown exponentially. We started with a handful of employees and there's now more than 100. We've also improved the manufacturing production process. In the beginning, we produced three shelters each week; now, it's 50. There are Pallet shelter villages in 11 states, from Oregon to Arkansas. We've also partnered with mission-aligned investors who helped us scale and grow to meet the needs of the crisis. As a social purpose company, we use profitability to expand our impact. Amy is filled with gratitude.
Pallet began with the intention to help some of the most vulnerable members of our community, and that continues today. Our villages are not only bringing people inside, they are helping people regain stability to take the next step. We're also building a nontraditional workforce. More than 80 percent of Pallet's team members have experienced homelessness, substance use disorder, and/or the criminal justice system. We believe people's potential — not the past — defines their future. As we look forward to the coming months and years, we hope to expand our model.
"I would really like to see us further expand our workforce development model to encourage more companies to do what we're doing in terms of job offerings, with support for staff," Amy shared. "I never thought it would grow this fast, ever. I never imagined that this would be the reality, but I'm thrilled."