Ready to give for the holidays? What to donate
December 14, 2021
Here's a list of items needed right now at food banks, homeless shelters, and other organizations assisting people in poverty.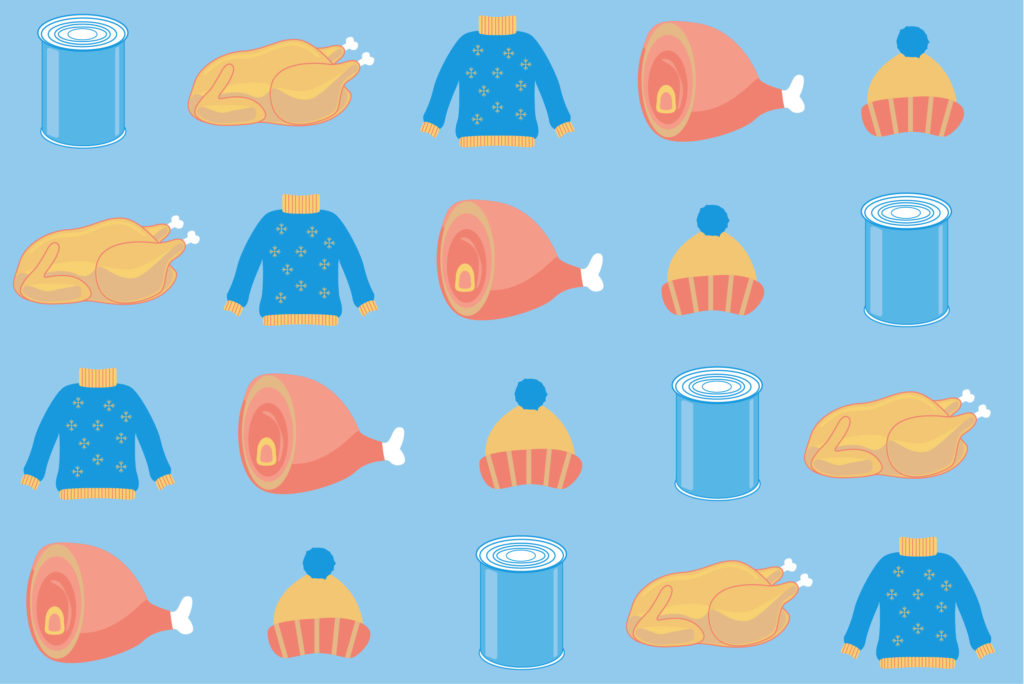 'Tis the season for giving. Two groups in need of extra help are our unhoused neighbors and people experiencing poverty. Many individuals and families are still dealing with economic uncertainty because of the coronavirus pandemic. But you can help your neighbors today by donating items in high demand. Below is a list of items needed right now at food banks, homeless shelters, and other organizations assisting people in poverty.
Winter items
Winter officially begins December 21, but many areas are experiencing frigid temperatures now. Warmth and protection from the weather are essential this time of year. If you're buying new items, keep in mind a range of sizes is needed.
● Coats
● Gloves
● Scarves
● Hats
● Hand warmers
● Crew socks, wool socks (new)
Food
According to the nonprofit Feeding America, 1 in 8 people faces hunger, and 1 in 6 children faces hunger. Across the country, food banks are serving more individuals and families. Volunteers of America, a nonprofit organization providing housing assistance and other services has seen demand for food increase significantly. According to a published report, "Volunteers of America went from distributing 3.7 million pounds of food the year before the virus took hold to nearly 8 million pounds the first year of the pandemic." In addition to the rise in demand for food assistance, an increase in inflation has also meant fewer community contributions.
● Non-perishable canned food such as soup, fruit, and beans
● Peanut butter
● Pasta
● Rice
● Fresh fruits and vegetables
● Snack bars
● Canned meat such as tuna
● Lean proteins such as a whole chicken *some food banks have space for items that need to be kept cold or frozen, call ahead to double check
● Dairy products such as milk, cheese, and yogurt
Toiletries
Personal care products can be expensive for people who are already struggling to make ends meet.
● Toilet tissue, deodorant, lip balm, menstrual care products
● Toothpaste, soap
● Shampoo and conditioner (travel sized works best for unhoused people)
● Diapers and wipes
● Hand sanitizer
Items for outreach services
Organizations serving people experiencing homelessness typically go out into the community to reach people living unsheltered, helping to meet the immediate needs of the unhoused.
● Sleeping bags
● Sleeping pads
● Solo tents
● Tarps
● Umbrellas
Financial donation
Financial donations help an organization meet their specific needs as it can change often. It also allows them to purchase what they need when donations are low so they can continue to serve the community.
Before you donate it's a good idea to call or check the website of the organization you're interested in helping. They may have a list of items you can buy directly and send to them.
For more ideas, check out our list of most needed to help our homeless neighbors year-round.