The streets can't be a waiting room. Why Pallet is one solution to unsheltered homelessness.
April 27, 2021
Pallet shelters are a solution that treats unsheltered homelessness for what it is, an emergency.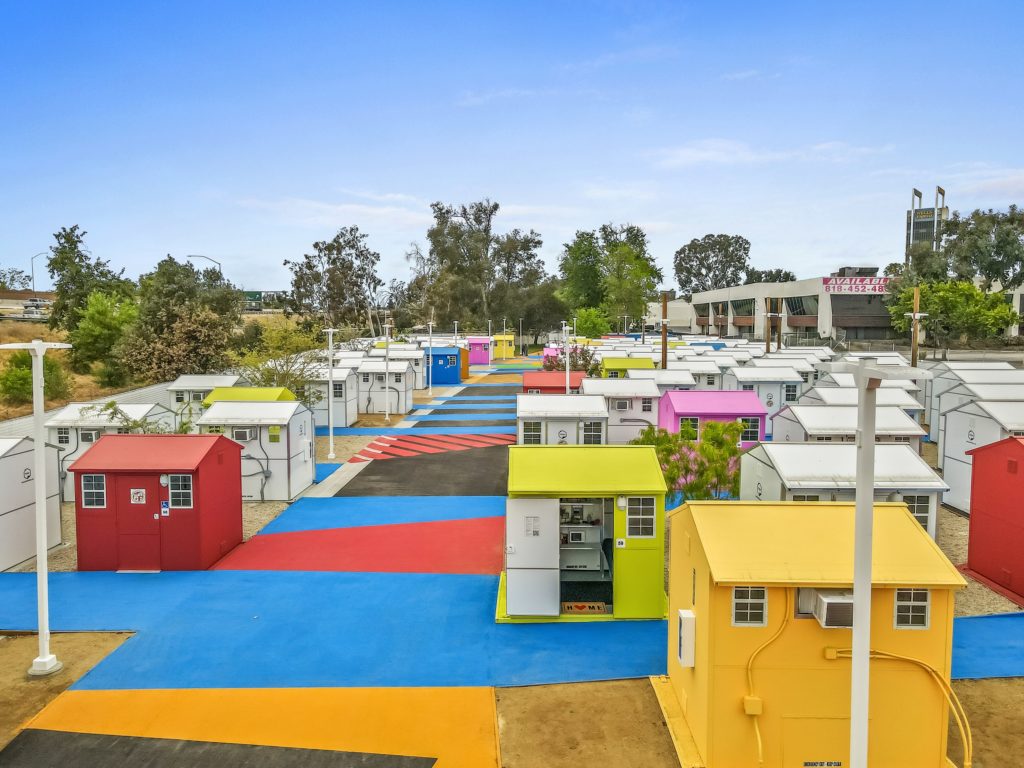 Homelessness is a crisis affecting every corner of the country. In recent years, the numbers have increased exponentially, and the problem is no longer relegated to the shadows. Recent statistics from the Department of Housing and Urban Development (HUD) show more people are experiencing unsheltered homelessness versus sheltered homelessness — a first since data collection began.
People are struggling.
They are struggling in public. As a social purpose company, we choose not to look away from this emergency. Every minute someone is living outside, the more dire the situation becomes. People experiencing unsheltered homelessness face medical problems typically seen in people 20 years older than them. They are also at an increased risk of violence and incarceration.
Living outside is traumatic.
The life expectancy of someone experiencing homelessness is 50 years old, compared to the average life expectancy of 77. In addition to the deep wounds that can form when someone experiences homelessness, they must also contend with the social stigma accompanying their housing status.
Suffering is unacceptable.
Pallet shelters are a solution that treats unsheltered homelessness for what it is, an emergency. While there are many thoughts on how to reduce barriers to traditional housing long-term, the reality for the thousands of people facing homelessness is that they need a place to stay tonight.
Our shelters are personal, dignified, and safe. They are easily deployable and can be assembled in under an hour. Couples can stay together in our shelters and people don't have to part with their pets. Communities built with our shelters are a stepping-stone to permanent housing.
Below are answers to frequently asked questions about our shelters and model.
How is a Pallet shelter different from a shed?
Sheds are for tools and yard equipment. They are not manufactured as a living space. Unlike sheds, our shelters were designed for human habitation by people with lived experience in homelessness. This population helped us build a space to help people stabilize, then move into permanent housing. Shelving inside the shelters allows them to be personalized temporarily, and four windows let in plenty of natural light. The charming cabins include insulation, space for storage, and much more. When people live on the street, under overpasses, and in parks, they must constantly be on guard. Our shelters come with a locking door for safety and autonomy. People finally have an opportunity to sleep. Our shelters are grouped in a community where people have access to bathrooms, showers, kitchen, laundry facilities, community room, and more. A local social services agency runs each site. Residents have access to caseworkers who help them find permanent housing, medical care, jobs, and regain necessary documentation such as identification cards.
What are the shelter sizes?
We've designed 64 square foot and 100 square foot shelters. The 64 can hold two foldable beds. The 100 holds up to four foldable beds and is typically designated for families.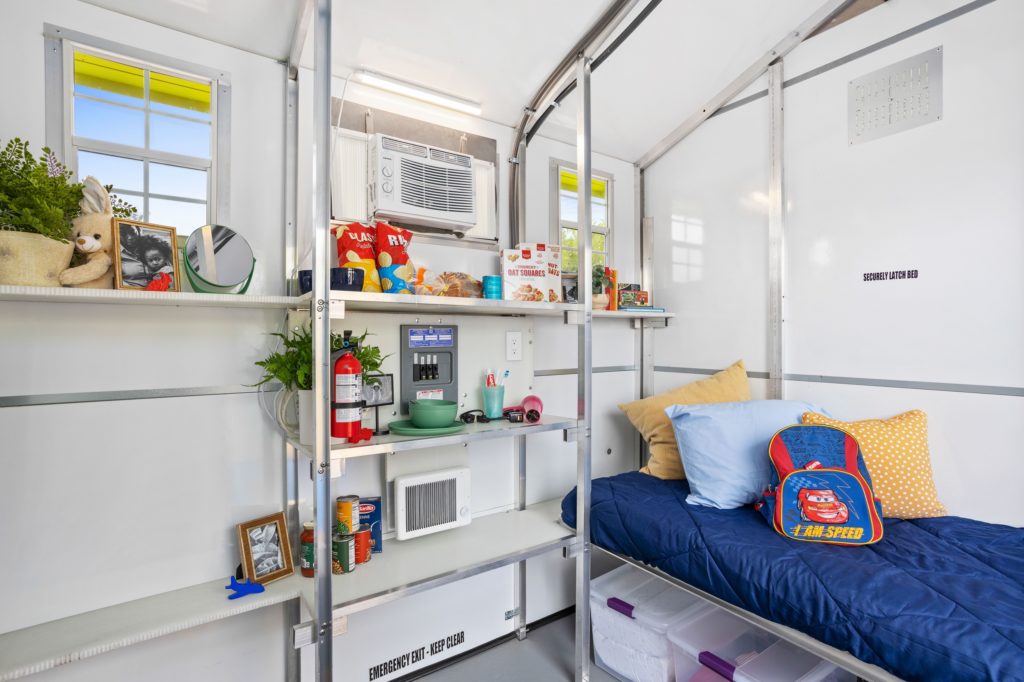 What are the features of the shelters?
Locking door and windows
Secure ventilation system with openable ridge cap
Structural floor with aluminum framing that can be placed on any surface
10+ year material lifespan
Interchangeable bed/desk options
Integrated shelving system
Built with easy-to-clean and -sanitize materials
Resistant to mold, mildew, rot, pests, and bed bugs
110 MPH wind rating
25lb per square foot snow load rating
Fire extinguisher, carbon monoxide monitor, and smoke detector
Why aren't bathrooms in the shelter?
Shelters without restrooms in each unit are faster, easier, and more cost-effective for cities and human agencies to build. This reduces the time required to shelter people from months or years to just hours or days. Building our shelters without bathrooms encourages community building among residents. When shelter residents need to use the restroom, they need to walk to the communal facility, interacting with their neighbors on the way.
A shelter with a communal bathroom is more humane than a tent without any bathroom. We believe that access to appropriate restrooms is necessary for all homelessness response solutions. A communal bathroom satisfies that need while providing additional benefits for the community's population.
Communal bathrooms are accepted in many settings, including college residence halls and campgrounds. Here's more on why we don't have a bathroom inside individual shelters.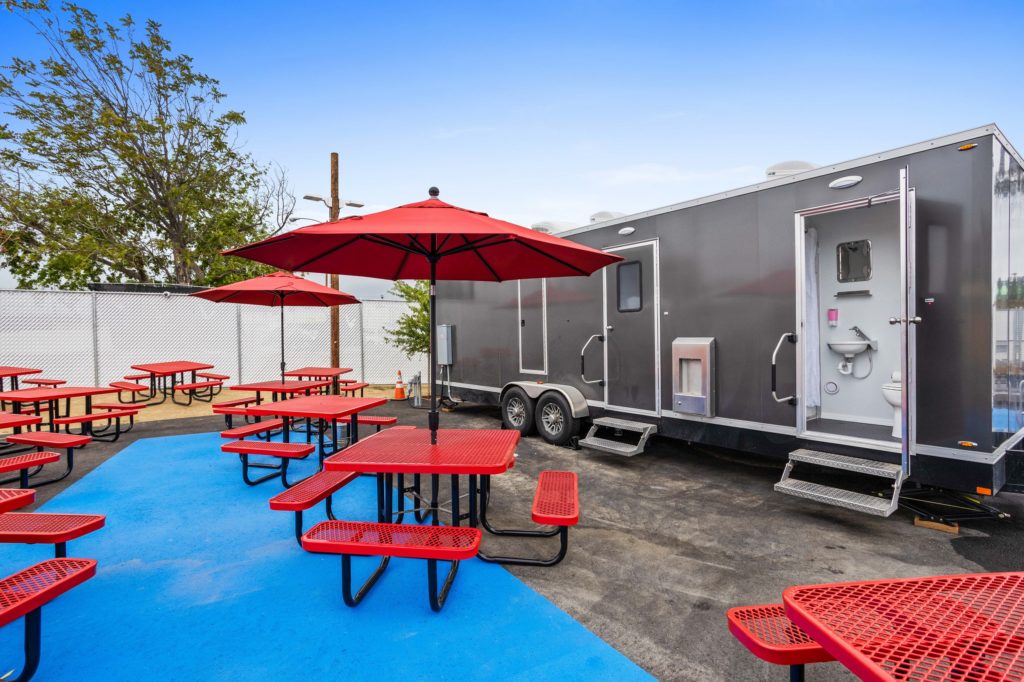 How do people come to live in a Pallet shelter?
Once a city or county decides to build a transitional housing community with Pallet shelters, they partner with a local social services agency. Caseworkers perform outreach to fill the open spots. People living in our shelters want to be there, and many of our communities have waiting lists.
What are people saying about Pallet shelters?
Our shelters are a comfortable space to recharge, stabilize, and access services.
"Being able to lock the door and have a place to sleep is huge," said Amy Skinner after she moved into a Pallet shelter. "Just being able to fall asleep! That's so hard to do when you're on the streets."
"I love it. I have my own space. I could close my door and lock it. I go out. I don't have to worry about anybody coming in my room and stealing. The showers are always clean," said Estella, who lives in Chandler Street Village in North Hollywood. "They helped me get my ID, they helped me get my Social Security card and my birth certificate. It's new to me. To trust in people — is it really happening? Am I really here? It's weird, but it feels good." In this video from Los Angeles Times Today she explained how her life has changed since moving into a Pallet shelter.
Stephen also lives in one of our shelters at Chandler Street Village. He told the Los Angeles Times he wouldn't change anything about the design of our shelter. Here's how we're described later in the same article: "Each comes with four sets of windows to allow for light and cross ventilation, as well as individual heating and air conditioning units. In addition, the pitched roofs give the structures a good amount of headspace. At Alexandria Park, I lay down inside one of the uninhabited units expecting a coffin-like vibe. Instead, the dimensions were more along the lines of a small rustic cabin."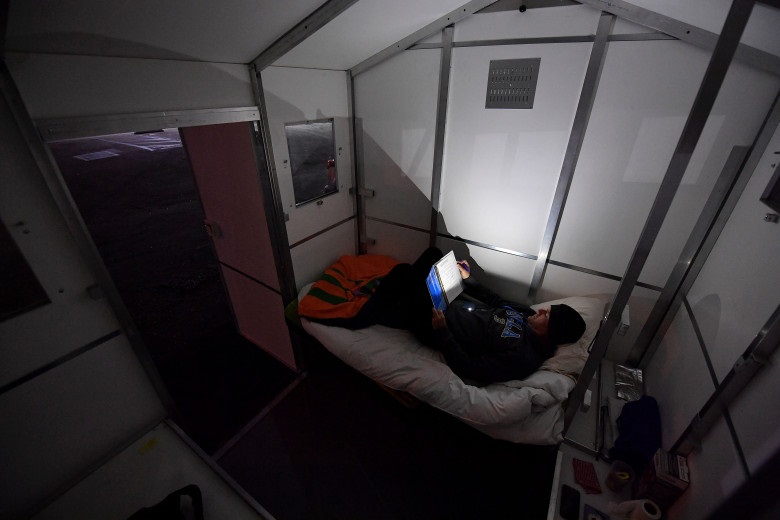 Rusty Bailey, former mayor of Riverside, CA, slept in one of our shelters to get a first-hand understanding of the service they were offering. Riverside Community Shelter Village opened in March 2020. Here's why he supported bringing a village of transitional housing using Pallet shelters to the city: "It's easier to have hope when you're treated as a whole person. It's easier to be motivated—in counseling, in substance treatment, in a job search—when the people around you see you as worthwhile. I know Pallet's shelters offer these things because I spent more than ten nights in a unit in 2019. I wanted to know what we were providing. I found the shelters to be highly functional and offered residents a stable environment from which they could begin to improve their lives. During my stay in the personal shelter, I spoke with a number of residents experiencing homelessness who desired their own shelter like the one I slept in."
How long do people stay in Pallet shelters?
On average, people stay for about three to six months.
Won't people get too hot or too cold in the shelters?
Each of the panels of our shelter is fiberglass reinforced plastic with a foam insulating core. The shelters can be equipped with an air conditioning unit and a heater. The size and reflective panels help the shelters stay cool in warm weather. Because the shelters are mold and rot-resistant, they also work well in humid climates. People living in Pallet shelters can get them to a comfortable temperature in colder climates because of the heating unit and insulation.
Behind every homeless statistic is a unique human being who deserves compassion and an opportunity to transition out of homelessness. Our shelters and the community created around them are one solution to making that possible.
RELATED POSTS:
Green energy powering Santa Clara County Pallet shelters
Why People Experiencing Homelessness Don't Accept Shelter