Building community in Vancouver, WA
June 25, 2022
The City of Vancouver uses Pallet shelters to address unsheltered homelessness at two Safe Stay Communities.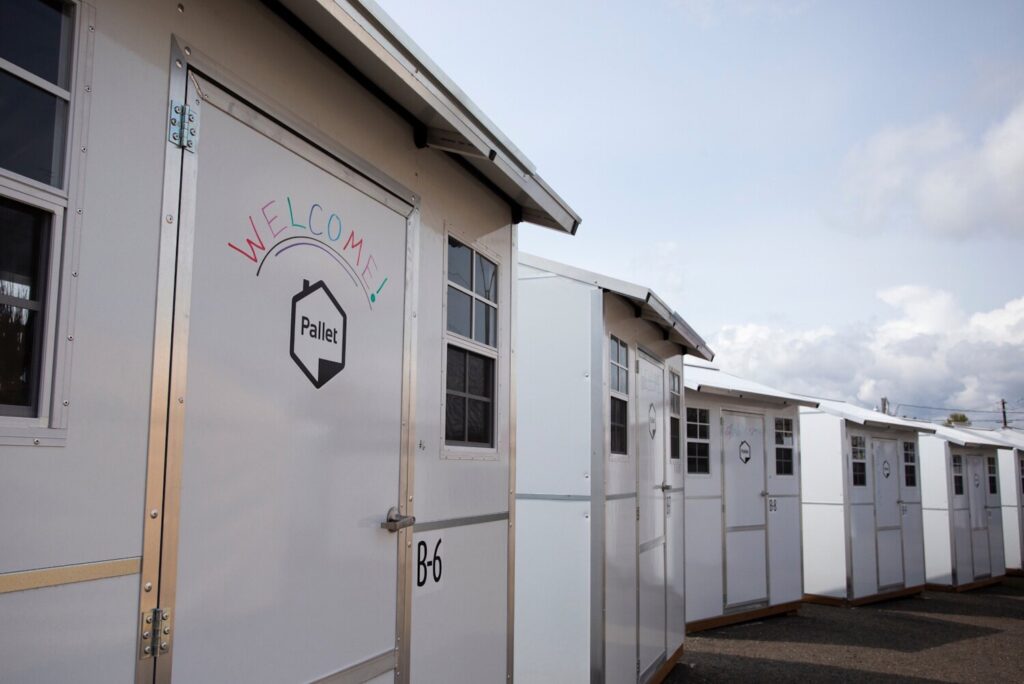 Recently Jerry and Sharon celebrated 26 years of marriage. This year they had more to commemorate than just lifelong companionship. At the same time last year, they lived outside and slept in a tent. The couple moved into Safe Stay Community, a Pallet shelter village in Vancouver, WA, when it opened in December 2021. The relocation was especially timely because of an unforgiving Pacific Northwest winter.
"It's great compared to a tent. Heat's good, especially in December when it's colder than heck. Or April when it snows," Sharon said. "And windstorms. We had a big windstorm that was taking tents down, but it never took ours down."
"It's a God send," Jerry added.
After getting settled, both underwent delayed surgery because they didn't have a stable place to recover. Now that they've moved into a Pallet shelter — a dignified space with beds, shelving, storage for their personal possessions, and a locking door — they've started the process of transitioning into their own place. Their son also lives in the community. He began taking online classes for a high school diploma.
"He's getting all A's. I'm so proud of him," Sharon shared.
There are 20 Pallet shelters at Safe Stay Community. The village replaced an encampment located in the same area. Outsiders Inn, an organization dedicated to lifting people out of homelessness through advocacy, support, and resources, is the service provider. All of their staff have lived experience.
Residents have access to a meeting space, bathrooms, hand washing stations, and a kitchen with a microwave, coffee maker, and air fryer. Meals are also delivered three times a day. A mobile health team visits the site frequently. The group includes a nurse, mental health professional, a substance use disorder clinician, and peer support. Pet care is provided through a partnership with the Humane Society. Case managers and housing navigators are also available.
In the months following the site's opening Jamie Spinelli, Vancouver's Homeless Response Coordinator, is proud of how well everyone is doing. Seven people have moved into permanent housing and a handful got jobs. Jamie has worked in outreach for more than a decade and has relationships with many residents.
She considers the greatest success of the site to be the positive shift in a resident who had been homeless for six years.
"He is the most stable I have ever seen. He was a very high crisis system utilizer. And he has not had to utilize any of those services since moving into this space," Jamie explained. "And that's only for a three-month period. But we would have had to utilize emergency services and crisis services for him probably no less than six times in that same time period when he was outside. "
He completed detox, is in recovery, and is now working at a local business near the site.
Jamie says the transitional housing village prepares people for the next step. A safe, supportive environment gets them back into a routine after living unsheltered. While residents work towards their goals, they bond and look out for one another.
Jamie eagerly tells the story of a successful paint night party in the community. One resident who loves the late Bob Ross made sure everyone tapped into their creativity.
"Everybody painted, and he would walk around. It was the sweetest thing I've ever seen in my whole life," she shared. "He walked around encouraging everybody because people were like, 'I'm not a good painter.' He said, 'Yours looks great. There's no mistakes. Only happy accidents. It looks beautiful.' Just encouraging everyone. It was probably the single greatest thing I've ever seen."
The site also gives the community a chance to engage with their unhoused neighbors. Many have come by to support residents, from making curtains for the shelters to offering employment. In April, Vancouver opened Hope Village, a second site with 20 Pallet shelters. Living Hope Church is the service provider. Jamie says it's running smoothly and residents there are off to a great start. The city is also discussing the opening of a third site.
"I think one of the important things about these shelters, in particular, is that they offer an alternative to traditional shelter. Because there's a lot of folks who you could not pay to go into a traditional shelter," Jamie said. "I think these fill a gap that we've had for a very long time and are super needed."
UPDATE: In August the City of Vancouver released a six-month report on the Safe Stay Community. Highlights from the report:
● 14 people successfully transitioned to housing
● 40 people completed housing assessments
● 16 people obtained identification cards
● 11 people secured employment
● 1 person received a high school diploma
Read the full report.