Creating a safe environment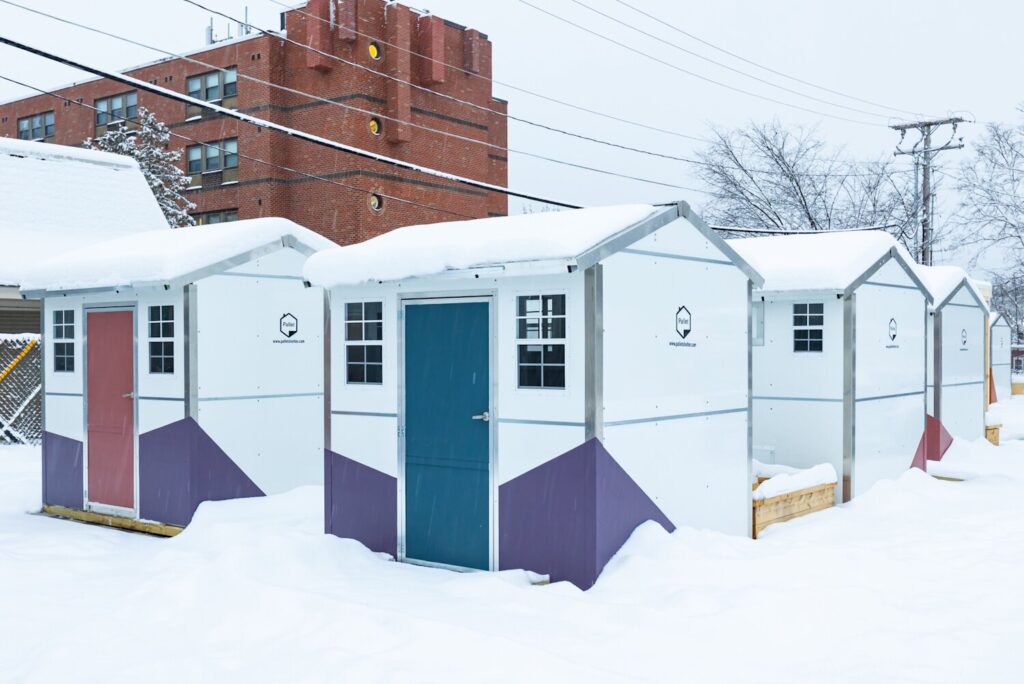 Pallet villages are informed by those with lived experience. This shapes everything we do from our product design and program development to safety and dignity.
The villages are created to be a transitional steppingstone from unsheltered homelessness to permanent housing. They provide the dignity and security of private units within a community setting. Residents have access to a resource net of on-site social services managed by a local service provider, appointed by the city or county leading the project.
Pallet approaches safety in several ways. Our shelters are designed to meet or exceed industry building, fire, and safety guidelines, and are independently inspected by local authorities prior to residents moving in. We've also worked with village operators, residents, and our team members with lived experience to identify dignity standards we believe should be upheld at any Pallet shelter site. These standards include an on-site service provider to ensure residents have the ongoing support required for their safety and 24/7 security.
Personal Safety and Dignity
There are five standards informed by those with lived experience, that should be addressed at any Pallet shelter site supporting those experiencing homelessness or displacement. As well as hygiene facilities, meals, and access to transportation, they also comprise safety and supportive services.
Security features can include infrastructure with exterior fencing, a locked and monitored point of entry, and adequate lighting. Safety considerations also include fire prevention, sufficient staff properly trained in trauma and/or conflict resolution, and unobstructed pathways. A zero-tolerance policy toward violence, abuse of power sexual harassment/assault, or discrimination of any kind is mandatory in our villages.
One of the essential safety features of a Pallet shelter is the locking door. When residents are inside their cabin, they can relax and be sure their space can remain private. A locking door also means their personal belongings are safe. When someone is experiencing unsheltered homelessness, there's always a risk they'll be asked to move, and it's challenging to hold onto one's possessions. 
Pallet villages provide a central location to access community services that help a person end their unhoused status. This starts with case management, social workers and other professionals who can create client-centric plans for getting residents stable housing, health care, employment, and more.
Weather Protection
Pallet shelters are equipped to handle wind, snow, and varying climates across the country. Our engineering team has performed numerous tests to ensure we've produced a quality product where people are protected. 
Climate Control 
Keeping people comfortable begins with the exterior. The panels of Pallet shelters are white and opaque with a glossy finish. Reflecting sunlight is helpful in the summer. Air conditioning units also help keep the shelters cool. They require less electricity to maintain comfortable interior temperatures due to the reflective nature of the shelter's exterior. We offer two options including a 6000 BTU AC for extremely hot climates.
Proper insulation is vital in cold weather and high temperatures. The shelter exterior panels have a foam insulating core. We offer thicker wall and roof insulation, a 4500-watt heater, and insulation under the floor panel as part of a cold-weather package for frigid climates. It maintains a temperature of 70F when outside temperatures drop as low as -20F.
Wind/Snow
Tests for windy and snowy conditions show the shelters can withstand 115 mph wind and a 25 lb./sq. ft. snow load for our standard units. Depending on the location, we can also adjust to increase the snow load to 50 lb./sq. ft. and wind to 170 mph. An additional safety feature that comes with every shelter includes a proprietary staking system, which allows the unit to be secured to the ground.
Fire Safety
Any structure is susceptible to fire danger. Our team's construction industry background and knowledge helped in the selection of materials that would be safe for people to reside in, strong enough to weather the elements, and easy to assemble so we can set up villages quickly. 
Pallet shelters are made up of a unique material mix specifically selected for safety, ease of use, and cost efficiency. The panels meet a Class C fire rating. This classification is a measurement of effectiveness against light fire exposure and is standard practice for all residential and commercial structures. Examples of other Class C building materials include hardboard siding panels, plywood, and Masonite. Brick, for example, falls under a Class A rating. There are five classification levels. 
The shelter's fire rating meets International Building Code requirements as well as local standards in all the 15 states where we currently have villages. Pallet makes fire rating information available before a city moves forward with contracting to build a village. This gives cities time to independently verify that the structures meet local code requirements. After they are assembled, the shelters are also inspected to ensure they meet code and local fire regulations before residents move in. 
These measures, paired with the efforts of local authorities, ensure that cities and counties can build Pallet villages with confidence.
"Pallet shelters are designed to prioritize safety, and this is a key reason we chose this shelter intervention," said Oakland City Council President Nikki Fortunato Bas. "They meet code requirements by the State and City departments, including the Oakland Fire Department."
Further, fire safety isn't solely about materials used. Another component includes measures that increase the likelihood of having enough time to safely escape a fire. If a three-bedroom home catches fire, building inspectors have set a standard to protect the resident. Those measures include fire alarms and ample windows and doors that can be used as an exit. Pallet's shelters make the same considerations and can be even easier to exit in the event of an emergency given their relatively small size. There are also hinges on the outside of doors so if someone is incapacitated (not just in the unlikely event of a fire but also if they're having a personal crisis) the door can be easily removed.
In addition, all Pallet shelters are equipped with standard fire safety equipment. They include: 
Fire extinguisher
Secondary emergency egress door
Hardwired smoke detector
Hardwired CO monitor
"In designing our shelters, we borrowed fire safety best practices from our background in traditional permanent housing construction," says Pallet Founder and CEO Amy King. "These practices, paired with independent inspection by local fire authorities, make Pallet a safe solution for cities."  
The units are spaced several feet apart – dictated by local fire code – to minimize the damage if a fire occurs. Shelter spacing also provides more privacy between residents and their neighbors within the village. For additional safety, service provider staff should perform regular wellness check-ins on residents. These checks are an opportunity to make sure residents keep the egress door clear and that there are no other fire hazards within or between the cabins.
Safety and dignity are always a top priority at Pallet. People experiencing homelessness are already in a vulnerable position. Our goal is to create a safe environment for them to thrive so they can transition to permanent housing.