Pallet introduces community rooms for villages
February 16, 2022
Being able to gather with one another and be in community is a core component of Pallet shelter villages.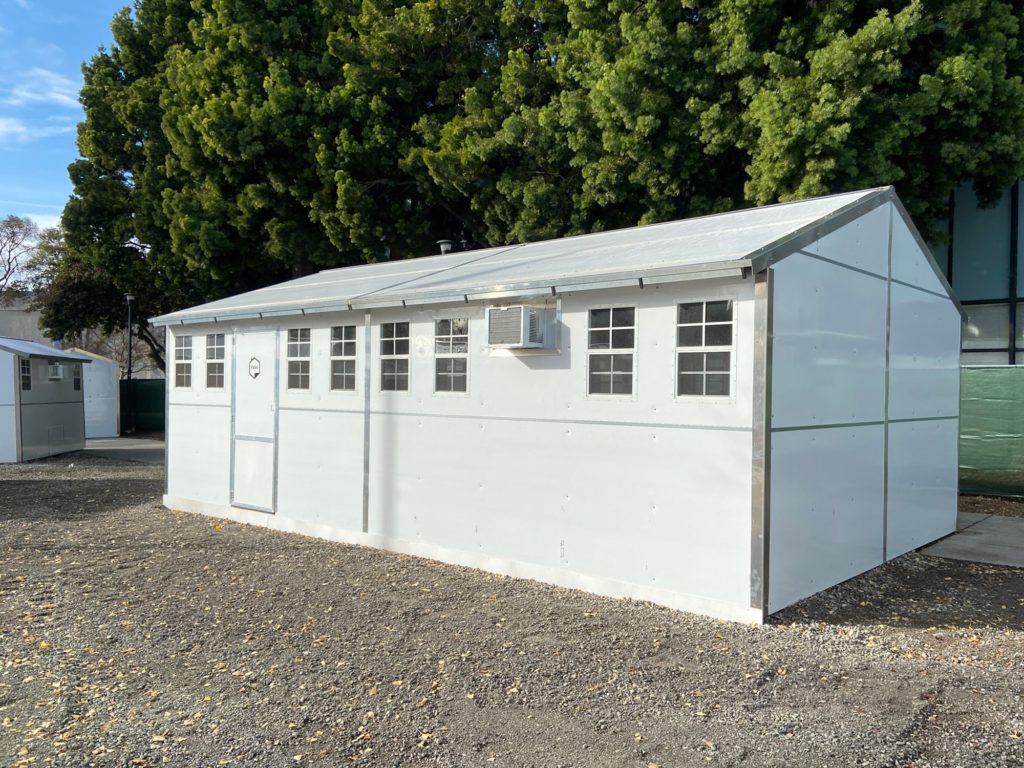 Pallet shelter villages are transformational communities for unhoused people. Residents can rest and recharge inside in shelters which offer private space with a locking door. Residents have access to meals, hygiene facilities, and social services through an on-site service provider while they work towards moving on to permanent housing.
When Pallet initially began addressing unsheltered homelessness, we started with the 64 sq. ft. sleeping cabin, then the larger 100 sq. ft. cabin. Last summer, we started offering bathrooms for our villages. Having a safe, private space for hygienic needs is an element of our commitment to creating a dignified community for unhoused people. 
Being able to gather with one another is also a core component of Pallet shelter villages. Many locations have outdoor seating, such as picnic tables, but now there's a new option: a community room. It comes in two sizes, 400 sq. ft. and 800 sq. ft. Pallet's engineering team began working on the community room after customers were interested in having a large shelter as a meeting space. The room has multiple uses, including food distribution and administrative offices. 
The engineering team takes a derivative design approach when creating new products,meaning they evolved from the original design rather than from scratch. This strategy allows the team to work quickly and meet the needs of villages across the country. The 400 sq. ft. community room has 18 panels, and the 800 has 28 panels, compared to the 64 sq. ft. sleeping cabin, which has seven. The community room is assembled on-site. It takes a bit more time to complete because of its size.
"The 64 square foot cabin can be assembled in about 30 minutes. The 100 square foot takes about an hour, hour and a half. The 400 takes a day, and 800 probably takes about two days," explained Zane Geel, Pallet's Director of Engineering. Part of the reason for the extra time needed is because of the roof. "You have to use a lift assist to get the roof up because it's so much bigger. It's heavier because it's twice as wide as a 100 square foot roof. So you have to hook a sling onto it, pick it up with either a forklift or a boom, pivot it in position, and then set it down, so it is a more complicated assembly deployment."
The community units have windows which open and close, plus two locking doors. The interior is a blank slate, so each village can modify it to meet their unique needs. Two shear walls in the 800 provides stronger wind resistance. Each shear wall is about 3ft wide on either side and goes from floor to the roof beams. The center of the room is still open all the way through. Heating and cooling options are available. The interior lights are powered through the electrical panel and are turned on through a remote wireless switch and turned off with a motion sensor. Each community room is made to order. Two community rooms are already in use across the U.S., and we're producing more.
By offering sleeping cabins, bathrooms, laundry, and now a community room, Pallet is making it easier, faster, and more cost-effective to build a village.
"Customers come to us, and we can sell them everything," said Geel. "And it makes one contact, one source and one connection point to get all of those products ordered, specified, delivered, and deployed. They're just dealing with one company instead of four or five."
It's an exciting time here at Pallet as we continue to grow what we offer. With each new village, it means more people experiencing unsheltered homelessness are on their way to the next step in their life.