Pallet shelter village serving Veterans grows
March 4, 2022
A village exclusively serving the needs of unhoused Veterans in Los Angeles now has 110 Pallet shelters.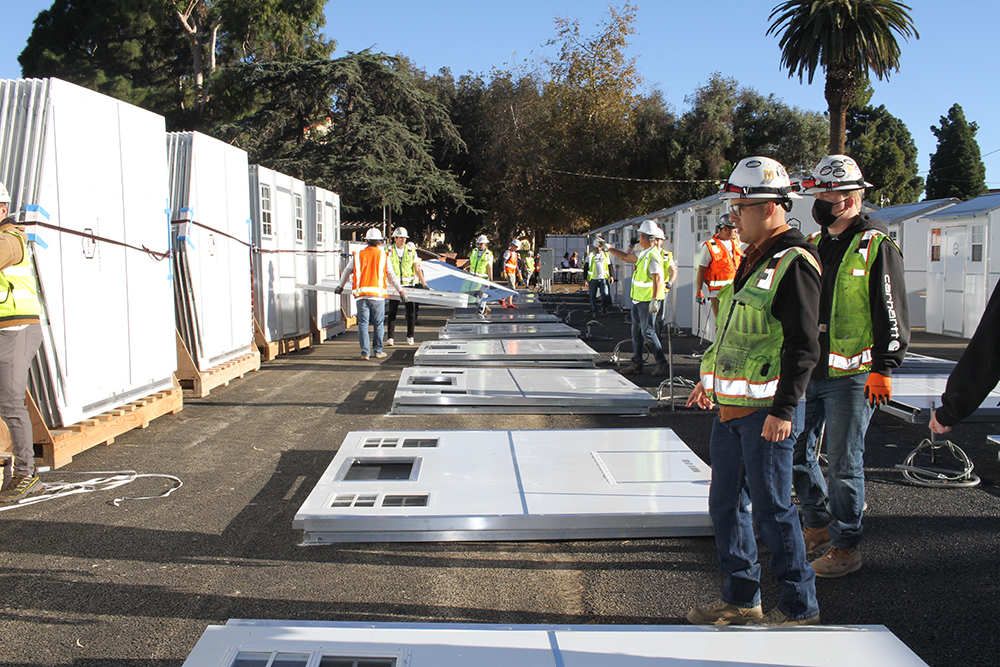 A Pallet shelter village exclusively serving the needs of unhoused Veterans in Los Angeles has increased in capacity. The village opened in November 2021 with 28 shelters. There are now 110 shelters at the site and two 800 sq. ft. community rooms that will be used as dining halls.
Residents at the village have a variety of amenities in their shelters: a foldable bed, personal climate control, windows, electrical outlets to power personal devices, fire safety equipment, and a locking door. They have access to meals, bathrooms, and showers.
VA Greater Los Angeles Healthcare System operates the village. It's part of their Care, Treatment & Rehabilitative Services (CTRS) Initiative, a low-barrier-to-entry outreach program. It provides Veterans a safe, clean, designated Pallet shelter living and an area for tents. The goal is to improve health outcomes for unsheltered Veterans while moving toward permanent housing. CTRS Supervisor Chanin Santini said participants have access to mental health services, social services, peer support, and case management.
"We also have battlefield acupuncture. We connect with our integrated health and wellness program. So Veterans can participate in yoga and Tai Chi, and other treatments," Santini added. "We have whole health classes that happen almost daily. Some of them are simple storytelling groups. There's also a healthy kitchen class that happens once a week."
The CTRS initiative began in 2020. According to VA officials, of the 507 Veterans who have participated, approximately 40% have moved into transitional housing. About 25% are now in permanent housing. CTRS is part of a larger strategy at the VA to house Veterans in the greater Los Angeles area.
"We really want to interdict that pipeline before veterans become homeless," shared Robert McKenrick, Deputy Director, Greater Los Angeles Healthcare System.
Within ten years, they plan to build more than 1,200 units of permanent supportive housing.
Building the Village with Partners
Numerous organizations came together to bring Pallet's dignified shelters to the VA campus. The VA provides licenses for the sleeping cabins to be used for CTRS. Partnerships include AyZar Outreach, Village for Vets, Brentwood School, former Gov. Arnold Schwarzenegger, Lennar, and HomeAid.
Schwarzenegger donated $250,000 to Village for Vets to purchase 25 Pallet shelters after visiting Veterans at the site on Thanksgiving Day. He returned days before Christmas after they were set up.
"Today, I celebrated Christmas early. The 25 homes I donated for homeless veterans were installed here in LA. It was fantastic to spend some time with our heroes and welcome them into their new homes," Schwarzenegger wrote on Twitter.
Below is a report on his visit.
Building the Pallet shelters at the VA involved many individuals' dedication, time, and effort. Pallet's deployment team partnered with Village for Vets, HomeAid Los Angeles, and Team Rubicon to assemble the structures. Team Rubicon is a nonprofit organization serving communities by mobilizing veterans to continue their service by helping people prepare, respond, and recover from disasters and humanitarian crises. Team Rubicon's "Greyshirts," or volunteers, were uniquely qualified to bring the village to life, with the bonus of helping their fellow vet in a time of need.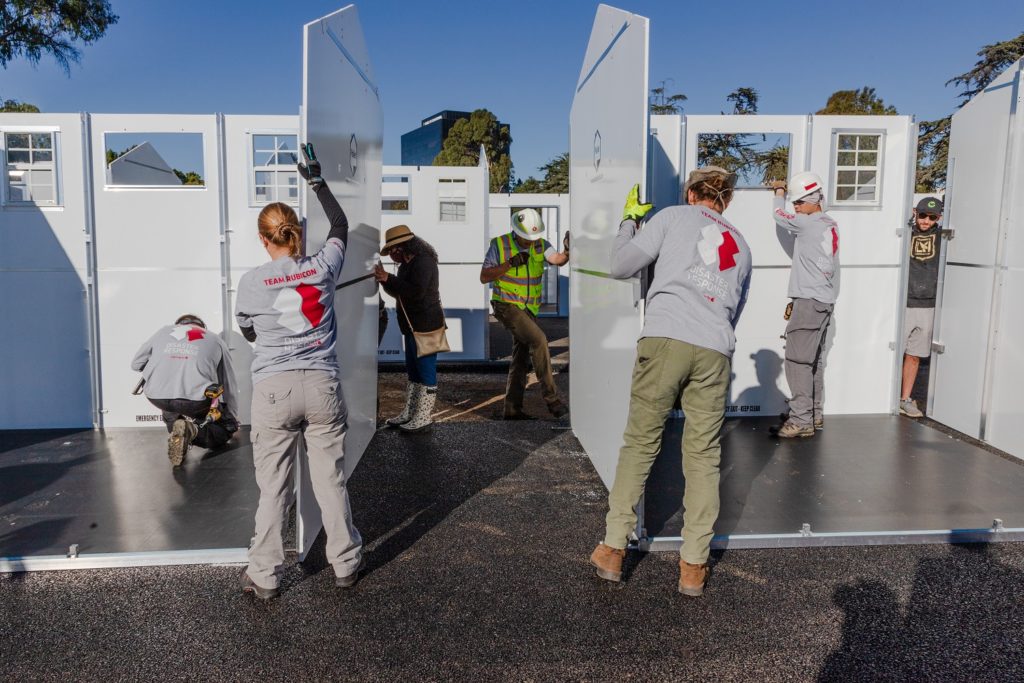 Later this month, 15 additional sleeping cabins will be placed on the campus.
As evidenced by the VA site and all Pallet shelter villages, we can help our most vulnerable neighbors when the community comes together.

Case Study: Uplifting At-Risk Veterans