Q&A: Mayor Cassie Franklin on addressing unsheltered homelessness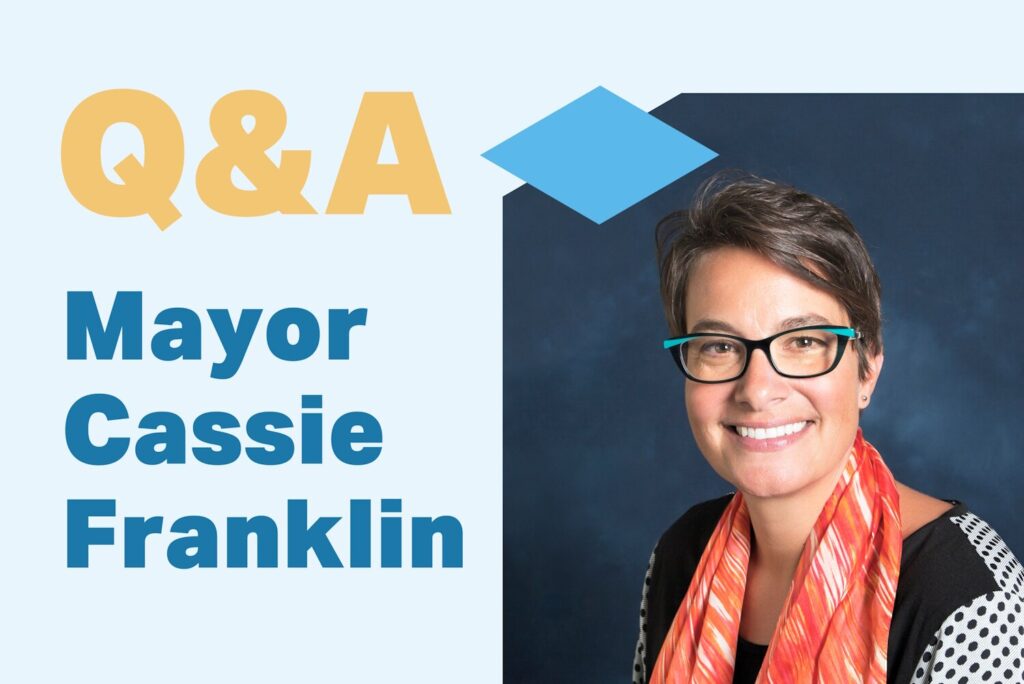 Pallet shelter villages are transitional communities for people experiencing homelessness. They provide the dignity and security of lockable private cabins within a healing environment. Residents have access to a resource net of on-site social services, food, showers, laundry, and more which helps people transition to permanent housing.
There are more than 70 Pallet shelter villages across the country, including one near our headquarters in Everett, Washington, which opened one year ago. Everett Mayor Cassie Franklin was instrumental in bringing the site to life. Recently we held a webinar to discuss the affordable housing crisis, why unhoused people don't accept traditional shelter, and the steps Everett took to build a Pallet shelter village. Mayor Franklin provided good insight into these issues. Before becoming an elected official, she was the CEO of Cocoon House, a nonprofit organization focused on the needs of at-risk young people.
Below is a lightly edited version of the conversation.
Pallet: How has the affordable housing crisis affected your area in the past three years?
Mayor Cassie Franklin: First of all, Everett has had a housing crisis. The West Coast has had a housing crisis for decades now, and the pandemic has only exacerbated that. So the last three years it has just gone out of control. Everett is about 20 miles north of Seattle. Seattle was always an affordable big city, and people would move to a more affordable working class community like Everett. Now Everett is also becoming unaffordable. I just actually had a conversation with one of our residents that her rent was going up $300 a month and she's on a fixed income. That is not going to be affordable, and that's going to lead folks like that individual into homelessness if we don't protect the affordability that we have in our communities.
Because affordable housing is for everybody. It is for our nurses, it is for our firefighters, our police officers, our baristas, our working families need affordable housing. Everett needs housing at all price points.
The homelessness crisis has escalated tenfold, I guess, in the same period. So I just want to say that they're both interrelated very important issues that we're working towards. And I see Pallet as a very important tool in addressing homelessness and making sure that we have pathways to affordability for folks.
Pallet: Can you discuss funding sources available to fund Pallet shelter villages or comparable models?
Mayor Franklin: Before actually all that federal funding that's available right now, we were interested in Pallet and interested in making it happen. So we started to work with the team to identify how we could do it using city-owned property. So that helps with the expense right there. If you take city owned property that's underutilized, that's just — you're holding it for future purpose.
We were also able to get a state grant from the Department of Commerce, our county human services, and of course, American Rescue Plan dollars. Pallet is so affordable. I think that as a city and you're trying to figure out your way out of this housing crisis or how to build a new shelter, you're talking millions of dollars, and it's overwhelming. It is so much more affordable that it's kind of mind blowing how much easier it is to get temporary shelter up. There are so many people that congregate shelter is not the appropriate solution for.
The folks that we were seeing in our city that were like, okay, we've got these great service providers, we've got these hotel vouchers, we've got these dollars in these programs, but none of our unsheltered population wanted to access those services. There were just too many barriers. And I needed a solution for the folks that were living in encampments, for the folks that really were service averse. We needed far less funding than we would have to buy a motel or build a shelter or acquire even a warehouse to house people.
The city continues to work on permanent supportive housing. That is our goal. We've built permanent supportive housing here. It takes years. We're very proud of it. We need so much more of it. We are continuing down that path, working with outstanding housing developers, our nonprofit partners that understand the population that needs services. But I can't wait four years for a new housing project to be built and for us to get all the complex funding for that. I needed something more quickly, and that's where Pallet came in to provide that bridge.
(Note: Federal funding from FEMA and HUD is also available to use towards building Pallet shelter villages, safe sleep sites, and other interim shelter solutions. Pallet's Community Development team can connect cities and nonprofits with these sources.)
Pallet: What is the goal of these villages and what are the other measurable or quantifiable results that you consider successes?
Mayor Franklin: We had this area that was just a disaster. It was a huge encampment. We got so many complaints. It was not safe for the individuals out there. So we had angry residents complaining that we weren't taking care of the city. But I was also just really worried about the people that were living in those unhealthy conditions, health hazards. This is not an okay environment for people to sleep in.
We were able to get people inside living safely in their dignified four walls and the businesses that were impacted, again, this also helped us locate it. So all the NIMBYism like, 'oh, this is going to make our neighborhood worse,' actually it made the neighborhood better. It has improved the neighborhood. We took care of the health crisis. We have a safer neighborhood there now. And the people in the Pallet shelter community are after months, it takes time because these are service averse populations that have a lot of trauma from years of abuse on the streets and drugs and whatever illnesses they've been dealing with. But they are getting treatment, they are connected to social workers, they are getting medical treatment and some of them have been able to transition out of a Pallet [shelter] into permanent housing. So to me that's a huge win.
Pallet: How did you go about choosing the location you selected?
Mayor Franklin: It's the hardest thing right? No one wants to see people living outside. They get angry, but no one wants a shelter or any solution in their neighborhood, even affordable housing, which is just like housing. Honestly, people get worried about that. So the way we did it was I asked the team for a map of all of our public properties. I want every single public property. I want us to evaluate everything that we own, if any of those would be viable. I also asked to look at anything else if it was a site that they thought would be suitable. Probably not smack dab in the middle of a single family neighborhood. You're going to get the most NIMBYism and most pushback in that community. And so after the team, public works planning, our community development team and certainly working with Pallet, analyzed all of those different sites — how many people we would want to house and how we could get the services to the individuals — we identified one that was right behind our mission (Everett Gospel Mission). And again, that was hard because this was an area that was already being impacted by the services. We have the only shelter in the entire county right here in Everett.
And so they were like, 'Are you kidding me? You're going to put more shelter in our neighborhood.' The businesses and the residents in that neighborhood were scared, so that's why we looked at, okay, well, what can we do to improve the neighborhood? How can we make sure that this is actually going to be a positive impact, not a negative impact? And the no sit, no lie [ordinance] was very helpful.
We have two other Pallet shelter communities coming up. One is going to mainly house single adults, mainly single men. The next shelter is for women and children, and that is very close to a single family neighborhood. And so that is where that project will be going. And then a third site that we'll be discussing is on unused property that the city owns that is kind of somewhat close to residential, but more close to former industrial. So it's kind of like finding those transition properties in your city. That kind of where you're almost making everybody mad, your businesses and your residents, but it's not in the middle of anybody's area. Those borderline properties, and again, city owned.
Pallet: Anything else you'd like to add?
Mayor Franklin: I think separating the affordable housing crisis from the homelessness and kind of the street level issues that we're dealing with, they are not the same. The community gets them all mushed together, and that doesn't actually help us in our cause. So really talking about them strategically as separate issues that somehow they do relate, but they're separate issues. And so when you're talking about homelessness and the street level social issues and what we're dealing with there, finding solutions for non-congregate shelters are super important.
The main thing is land, education and balance. You've got to find the land and break through that, and that is achievable. Cities do have a lot of land. We did a ton of outreach before we put up the first Pallet shelter. Helping people understand this is not what you think it is. This is something very different. This is actually going to move people that are living outside causing problems for you inside and also educating the community. This is different than the other shelters you've experienced.