Debunking Myths: Homeless people shouldn't own pets
August 3, 2022
Pet ownership is a quintessential part of American life, but when a pet owner is unhoused, their ability to care for an animal is questioned.
Pet ownership is a quintessential part of American life. Statistics show 70 percent of households across the country own at least one pet. From parks to specialty items, there's an entire industry catering to the needs of furry family members. But when a pet owner is unhoused, their ability to care for an animal is questioned.
A prevailing myth is that people without a stable place to live shouldn't own pets and should give them up. According to a Homeless Rights Advocacy Project (HRAP) policy brief, "this advice is predicated on the false belief that surrendering dogs to shelters is superior to having a dog live on the streets with its owner." But that's not true. The brief adds, "shelter conditions alone cause severe animal suffering and unnecessary death." Some also falsely believe people experiencing homelessness are unworthy of owning a pet and are incapable of caring for them. These misconceptions are dangerous and have led to the harassment of homeless people on the street.
Jennifer, Human Resources and Safety Specialist at Pallet, knows firsthand the value of having a pet while homeless. Jennifer's bond with her dog Bailey began when she was housed, but later they lived in a car, then an RV. Bailey helped fill the void in Jennifer's heart and alleviate the pain and suffering she was going through. Jennifer was dealing with personal setbacks and substance use disorder at the time.
"Even in some of my darkest moments, Bailey was the reason I didn't just give up and quit and die. Because then it was like, what's going to happen to Bailey?" she shared. "She was literally my reason for not giving up and helped me really get through a lot."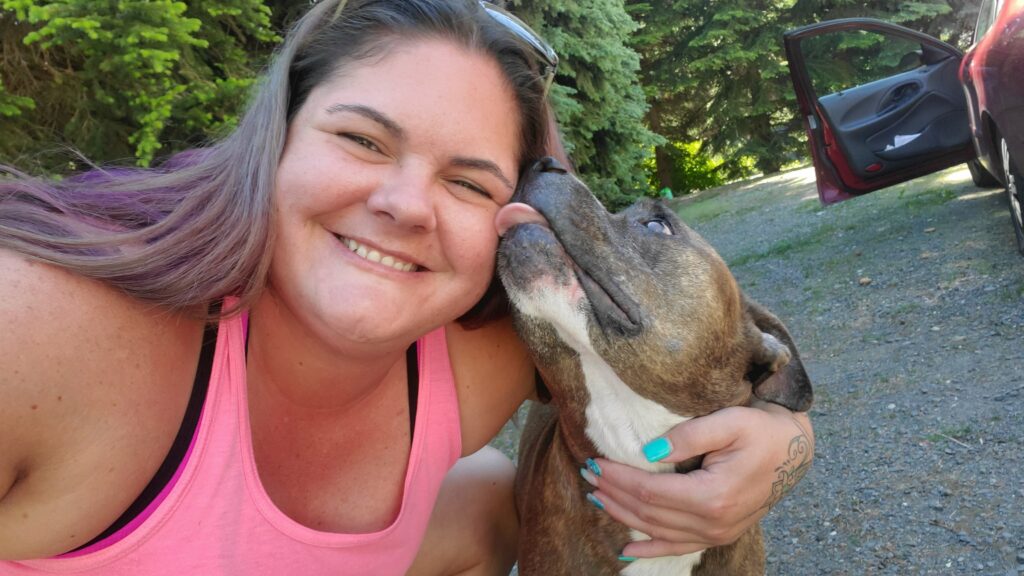 Jennifer took great care of Bailey and was attentive to her needs. Homeless pet owners often feed their animals before feeding themselves. For Jennifer, Bailey was a source of protection, companionship, and unconditional love.
"When you're in those situations of being homeless, you need something to hold on to, to keep going, to keep surviving. You can be a single mom living in your car, and CPS (Child Protective Services) will still leave you alone," Jennifer shared. "Just because you don't have a roof and four walls around you doesn't mean you're not functioning. It doesn't mean you're not living, and it doesn't mean that you're not doing the best that you can."
At Pallet, we understand the critical bond between pets and their owners. Because traditional congregate shelters don't allow pets, it's a barrier for unhoused pet owners to accept shelter. At Pallet shelter villages, unhoused people and their pets can stay together in a healing environment while stabilizing and preparing for the next step. Here's what a couple of pet owners staying in our shelters had to say about the benefits of having their four-legged family members with them.
"Most homeless people I've met in my time if they have an animal, they need it because it gives them clarity, some focus, and it gives them something to live for," John explained. His dog, Walter, brings him joy and is his best friend.
"They keep me grounded," Lynette added. "They're my life, really. They're my kids. They're very protective of me."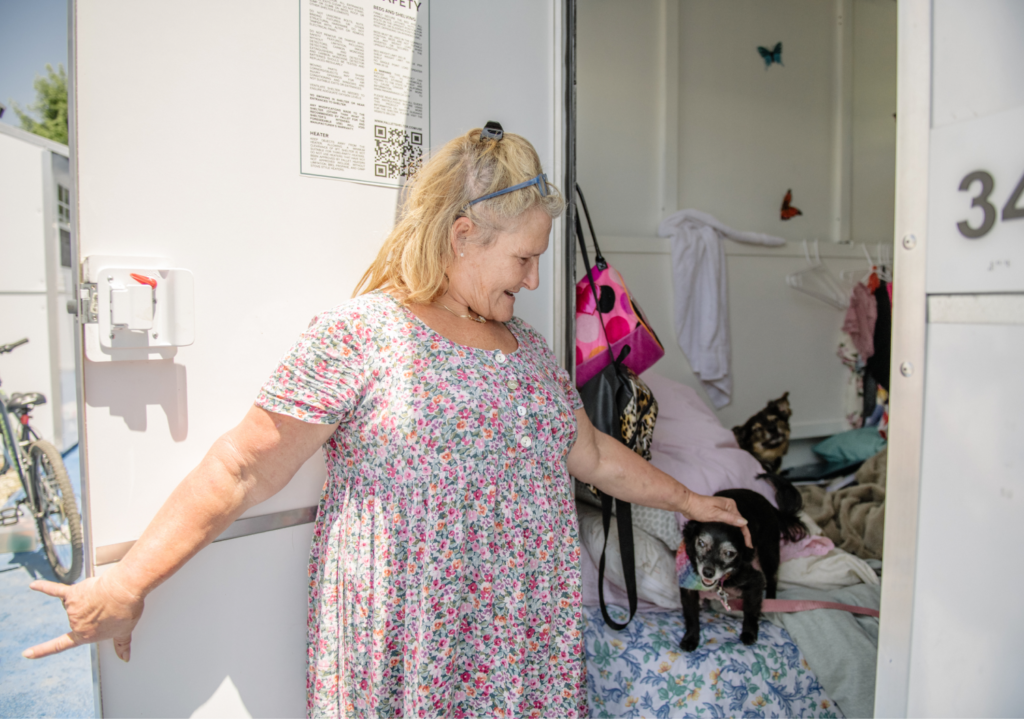 The numerous mental and physical health benefits of having pets don't suddenly disappear when someone is unhoused. Rather than calling into question their ability to take care of their beloved pet, donating food and supplies to the many local organizations, food banks, and veterinarians assisting them would be helpful. Better yet, support transitional housing communities that help people move from the street to permanent housing.
The unhoused community has as much right as those who are housed to build and maintain a bond with a pet if they choose to. The personal experience of Jennifer, John, Lynette, and countless others show having a pet in their life is invaluable.
This post is part of an ongoing series debunking homelessness myths.
Part One: They are not local
Part Two: Homelessness is a personal failure
Part Three: Homelessness is a choice
Part Four: Homeless people are lazy
Part Five: Homelessness can't be solved
Part Six: Homelessness is a blue state problem