Debunking Myths: Homelessness is a blue state problem
May 24, 2022
FACT: Homelessness touches every part of the United States, from urban to rural areas, from blue states to red states.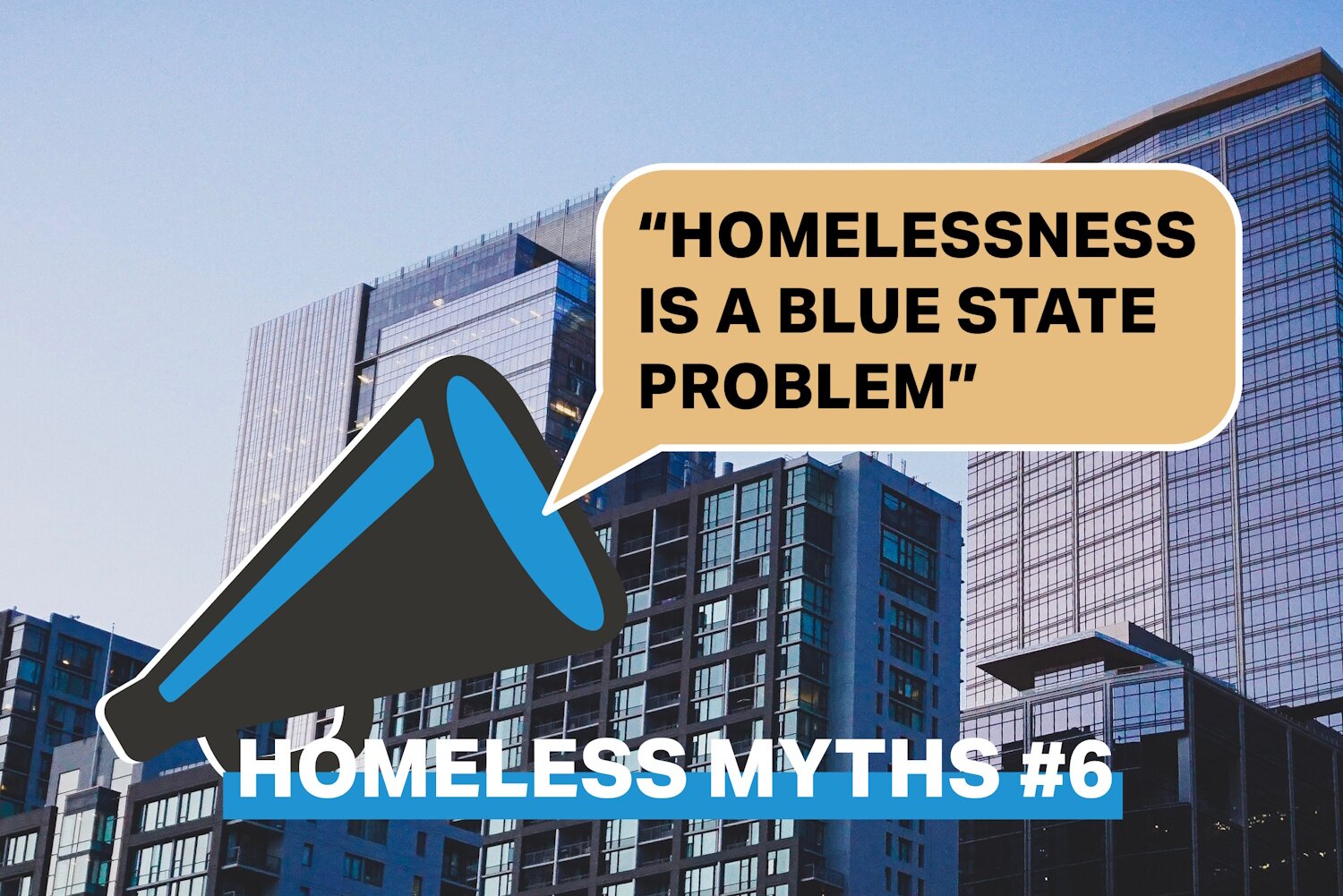 Across the country, more than 500,000 of our neighbors don't have a stable place to sleep at night. People experiencing homelessness are more than the negative images they've been reduced to. They are parents, children, and beloved family members going through challenging times. The leading cause of homelessness is economic hardship.
It's a myth homelessness is primarily a problem in blue states — areas with an abundance of services available to people who won't help themselves. This falsehood is related to the belief homeless people in a particular area aren't local. In reality, homelessness touches every part of the United States, from urban to rural areas, from the coast to the mountains, from blue states to red states. Unhoused people may not be visible, but they are in your community.
California, Oregon, New York, and the cities within them receive significant attention regarding reporting on the homelessness crisis. But these blue states aren't the only places with many residents experiencing homelessness. Here's a list of the top 15 states with the highest number of unhoused people:
California: 161,548
New York: 91,271
Florida: 27,487
Texas: 27,229
Washington: 22,923
Massachusetts: 17,975
Oregon: 14,655
Pennsylvania: 13,375
Arizona: 10,979
Ohio: 10,655
Illinois: 10,431
Georgia: 10,234
Colorado: 9,846
New Jersey: 9,662
North Carolina: 9,280
Source: US Interagency Council on Homelessness 2020 report. Also, the Department of Housing and Urban Development (HUD) breaks down the number of people experiencing homelessness per 10,000 people in the appendix of their annual report.
As shown above, a mixture of liberal and conservative states made this list. There are left-leaning and right-leaning cities and counties within each state whose policy approaches vary. Services are available everywhere because of federal government programs. There are also people in every community working to address the crisis.
Whether it's 50 people or 5,000 people experiencing homelessness in your community, they all need help. Once someone no longer has a permanent address, they face numerous barriers to getting back on track. Being homeless is complex and demanding. Day-to-day survival is the singular focus, and there isn't much time or mental space to figure out how to thrive.
Pallet employee Sarah was unhoused before joining our team. "There were times I had to get food out of the garbage because I was hungry," she shared about her experience of living outside. "The winters and the rain were definitely the hardest, of course, because you're so cold and you're so wet. And then to be able to find dry clothes from whatever garbage can or from wherever you can find them."
Pallet shelter villages provide residents with dignified shelter and access to basic needs and services. This allows residents to rebuild their lives and move onto permanent housing.
Our unhoused neighbors are better served when we embrace compassion and reject falsehoods about who they are.
This post is part of an ongoing series debunking homelessness myths.
Part One: They are not local
Part Two: Homelessness is a personal failure
Part Three: Homelessness is a choice
Part Four: Homeless people are lazy
Part Five: Homelessness can't be solved