Debunking Myths: Homelessness can't be solved
April 7, 2022
Given the size of the crisis it's easy to understand why homelessness is viewed as an insurmountable issue.
There's no question that homelessness is a significant crisis. In 2020, the annual nationwide Point-in-Time count showed 580,466 people experiencing homelessness. With hundreds of thousands of people without a permanent address, it's easy to understand why homelessness is viewed as an insurmountable issue. The statistics, persistent myths about who homeless people are, and endless negative headlines about our unhoused neighbors don't build confidence that the problem is being addressed. But beyond the pessimistic cloud surrounding the emergency is hope. At Pallet, we believe a future where no one goes unsheltered is possible.
Pallet shelter villages
More than 60 Pallet shelter villages in 16 states serve as a transitional step from living unsheltered to permanent housing. Our shelters can be built in under an hour and provide the dignity of personal space in a healing community environment. They have a locking door, storage, electrical outlets to power personal devices, and more. Every Pallet shelter village is run by a service provider who provides a resource net of on-site services, which include: getting residents "document ready," housing navigation, job assistance, and mental health services. Residents also have access to meals, showers, laundry, and more. When residents move out of a village, another person can move in and begin rebuilding their life. Our model centers on the transformative power of community to bring people together for joy, healing, and growth.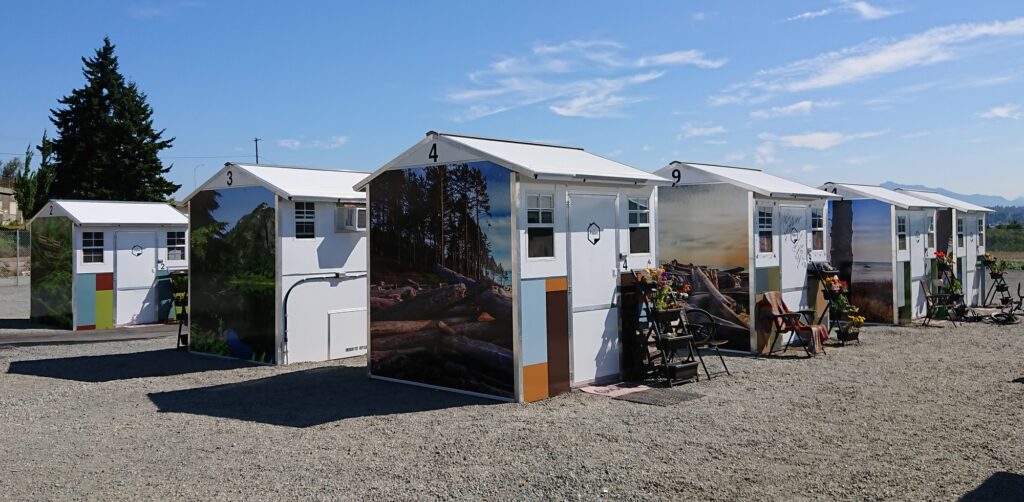 Pallet is one solution of many. Below is a brief overview of other groups working towards the common goal of bringing people inside.
A Neighborly Approach
In Seattle, Facing Homelessness takes a YIMBY (yes in my backyard) approach. The nonprofit organization established the BLOCK project, which provides permanent supportive housing. It's a tangible way for individuals to be a part of the solution. BLOCK homes are approximately 19'x13′ with a patio, solar panels, living space, kitchenette, and bathroom. In a few days, the sustainable home is built in the backyard of a host homeowner then a person experiencing homelessness moves in. A compassionate network of resources and people invested in their success supports the resident and host. The organization is currently building its 13th BLOCK home.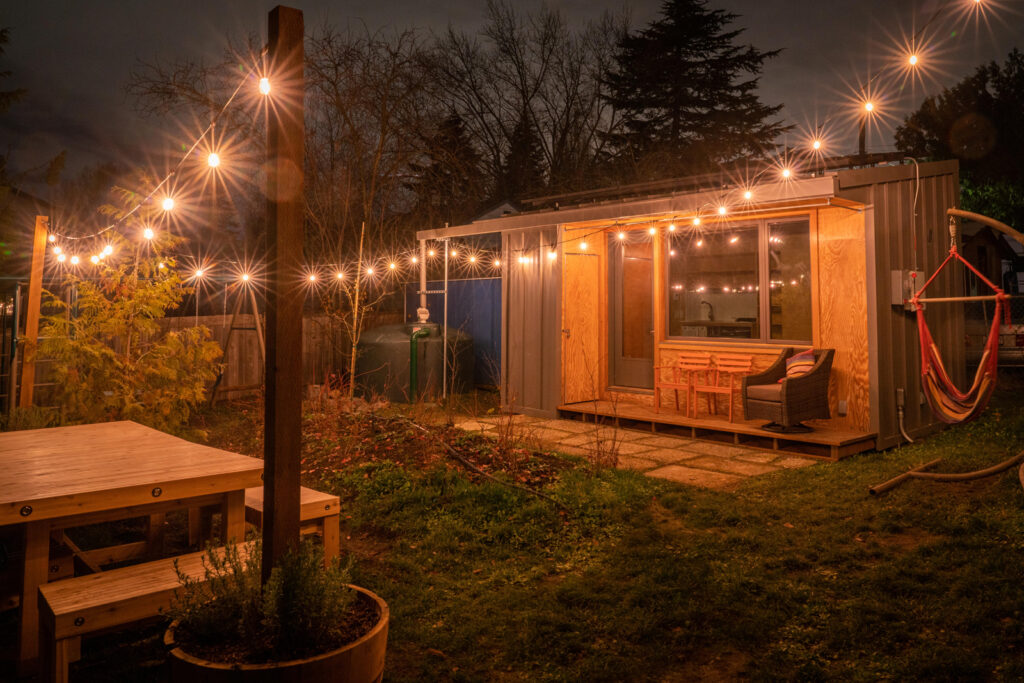 Guaranteed Income
Transitional and permanent affordable housing isn't the only way to address homelessness and people at risk of becoming unhoused. Guaranteed income programs provide cash payments to individuals and families who don't exceed an earnings threshold. The unrestricted payments are unlike a traditional safety net program such as Supplemental Nutrition Assistance Program (SNAP), a federal food aid program. Last year a San Francisco nonprofit gave a small group of homeless people $500 a month for six months. According to an article detailing the program, two-thirds of the unhoused people when the pilot began are now in permanent housing. There were numerous other benefits, including participants helping family members.
This year LA County launched "Breathe," and Atlanta rolled out "In Her Hands," both provide no strings attached cash. A guaranteed income program in Gainesville, FL, is helping formerly incarcerated people maintain financial stability. People exiting the criminal justice system are at higher risk of homelessness partly due to employment barriers. According to the website Low Income Relief, there are currently 50+ guaranteed income programs across 23 states.
Local Government
Individual cities and counties have also worked towards ending homelessness. San Mateo County in California recently announced a pledge to end homelessness by the end of 2022. According to an LA Times article, the county uses federal and state funds to buy hotels and other buildings to convert into housing. County Manager Mike Callagy told the Times, "This is a lofty goal, don't get me wrong. This is very lofty. But we believe that we can get there…We want to be the first to end homelessness of any county in California."
This month Pierce County officials in Washington adopted a Comprehensive Plan to End Homelessness. They're investing $250 million to achieve functional zero over the next two years. It's explained as a state where any person starting a new episode of homelessness has immediate access to shelter and a permanent housing intervention. The plan has six goals.
In addition to existing affordable and permanent supportive housing projects, the above examples show how numerous people, organizations, and elected officials are working towards a future where our neighbors don't have to sleep outside. Rejecting the myth that homelessness can't be solved is about choosing hope. While the change won't happen overnight, moving forward and not letting the size of the crisis immobilize us is essential. There is no act too small that can positively impact our vulnerable neighbors.
This post is part of an ongoing series debunking homelessness myths.
Part One: They are not local
Part Two: Homelessness is a personal failure
Part Three: Homelessness is a choice
Part Four: Homeless people are lazy