Year in Review: 2021 at Pallet
December 21, 2021
It's been a busy year at Pallet, from new village openings in three new states to introducing a new product: bathrooms for shelter villages.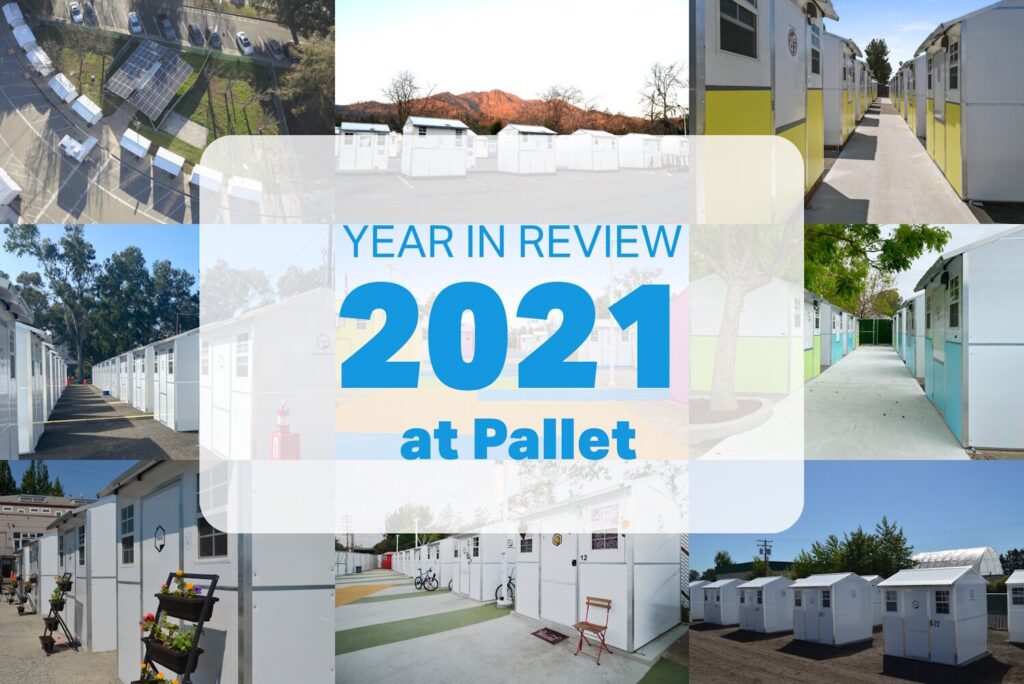 As 2021 comes to a close, we're taking a look back at the stories we've shared throughout the year. It's been a busy year at Pallet, from new village openings in three new states to introducing a new product: bathrooms for shelter villages. Most importantly, hundreds of people experiencing homelessness are staying in dignified shelter with a locking door and have access to social services. They can stabilize and work towards moving into permanent housing with the assistance of an on-site service provider.
In addition to sharing company news, we've also shared information about our homeless neighbors and the challenges they face. Here's a round-up of our top stories from this year.
1. Los Angeles Opens Its First Shelter Village
In the past year, homelessness in Los Angeles County grew at a rate of 13%. That's a startling change for any city — but for Los Angeles, where more than 50,000 people live without adequate access to shelter, a 13% increase represents thousands of new people who now live without a roof over their head.
The need for shelters and supportive housing in Los Angeles is more critical than ever. The City of Los Angeles is building Pallet shelter villages for its residents experiencing homelessness to address that need. The first such shelter village of its kind in Los Angeles opened in February. It immediately reached full capacity, with new residents moving off the streets and into their own personal, private, and dignified sleeping cabins. [Keep Reading]
2. Pallet employee Josh thought the life he has today was out of reach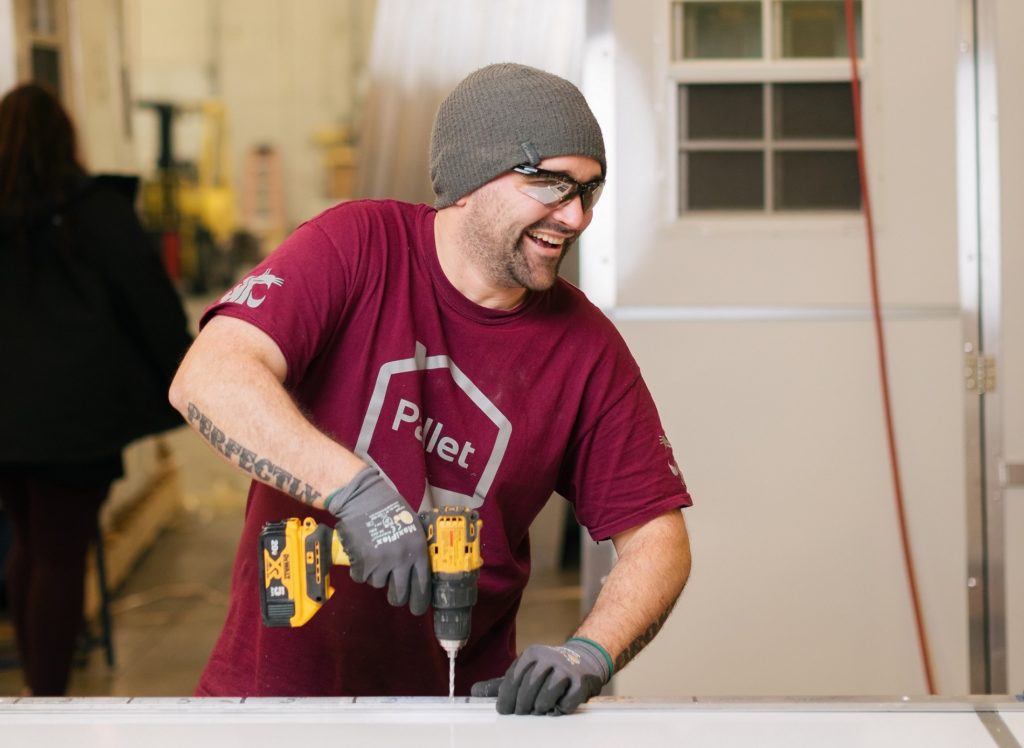 On a sunny spring weekend, Josh and his fiancée exchanged I do's in an outdoor ceremony. The two pledged to be life partners in front of a small group of friends and family. The joyous occasion marked a milestone for Josh he would not have predicted for himself. Several years ago, he was sleeping in his car in the back of a store parking lot. Today he maintains a full-time job here at Pallet, mended fractured personal relationships, and tries to lead by example.
"If you told me almost eight years ago when I got clean, that this is where my life would be, I would not have believed you," Josh shared. "I wouldn't believe you, that I have been with the company for almost four years. I wouldn't believe you, that a woman is head over heels for me and wants to marry me." [Keep Reading]
3. Community check in: Riverside, California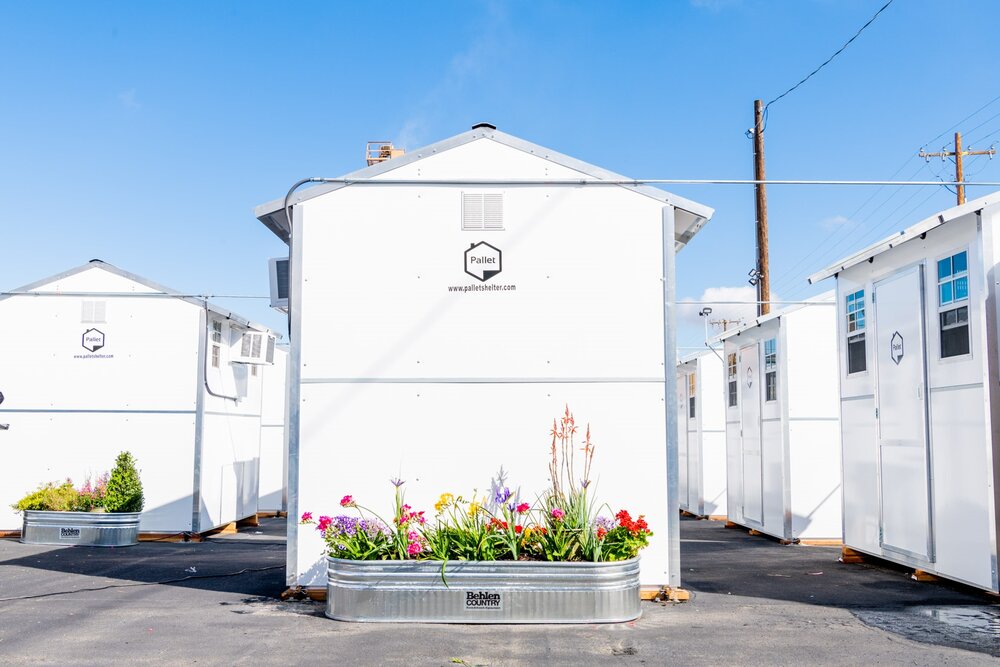 Moving out of homelessness is complex, and the path to stability varies from person to person. However, one proven factor in improving the odds of long-term success is transitional housing. Riverside Cabin Village Shelter offers this critical step with Pallet shelters.
The southern California community opened in March 2020 with 30 shelters. City Net, a nonprofit organization addressing homelessness through the coordination of community efforts, is the service provider. They've partnered with the City of Riverside. Residents have access to 24-hour wraparound services, including program supervisors, case managers, and housing navigators. Meals are also provided.
March 16, 2020 – April 30, 2021 impact:
● 149 people served
● 49 people received tenant-based rental assistance (TBRA)
● 41 people permanently housed
● 25% increased their income
● 3 people reunified with family [Keep Reading]
4. Putting people before profit: Why we're a Social Purpose Company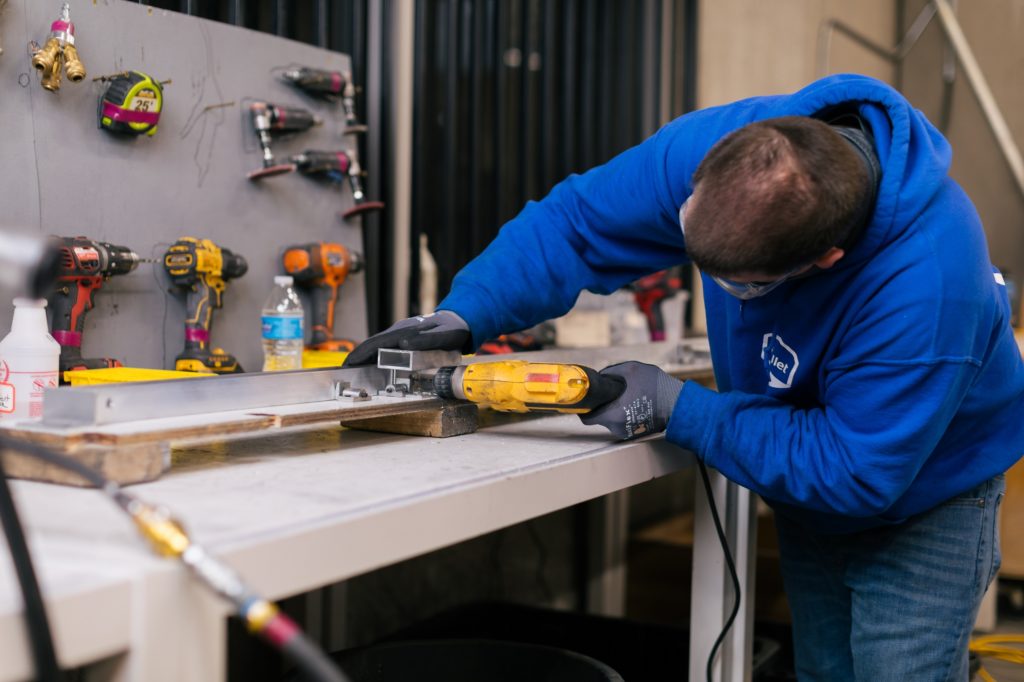 Classifying ourselves as a Social Purpose Company (SPC) is more than an official designation. It speaks to Pallet's values and purpose. SPC is the Washington state equivalent to a B corporation. It means our team puts a social purpose above making a profit. We're on a twofold mission: build equal opportunity access to housing and employ a nontraditional workforce. [Keep Reading]
5. Profile: Chris Hernandez, Chandler Blvd. Tiny Home Village case manager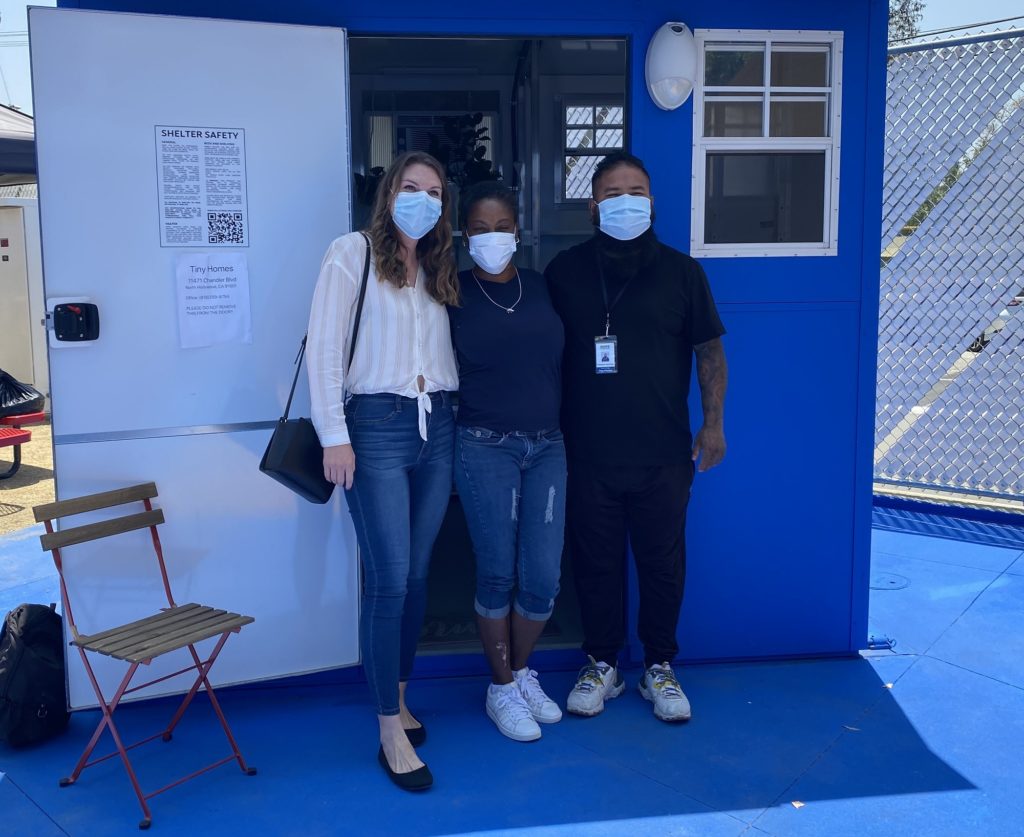 Chris Hernandez freely admits he likes to talk. He puts people at ease and effortlessly connects with others. It's a crucial skill in his role as one of two Hope of the Valley Rescue Mission case managers at Chandler Blvd. Tiny Home Village in Los Angeles, California.
"As a young kid, I was always very verbal with people. I was always near people," Chris said. "I've worked in hospice. I've worked with quadriplegic, paraplegic people. I've worked with people with cancer. I was a nursing assistant. I worked in a nursing home. I just love being around people and helping people. And I think I'm good at it."
Chris is part of the staff who provide social services at Chandler Village, a transitional housing community made up of 40 Pallet shelters. [Keep Reading]
6. Debunking homelessness myths: They are not local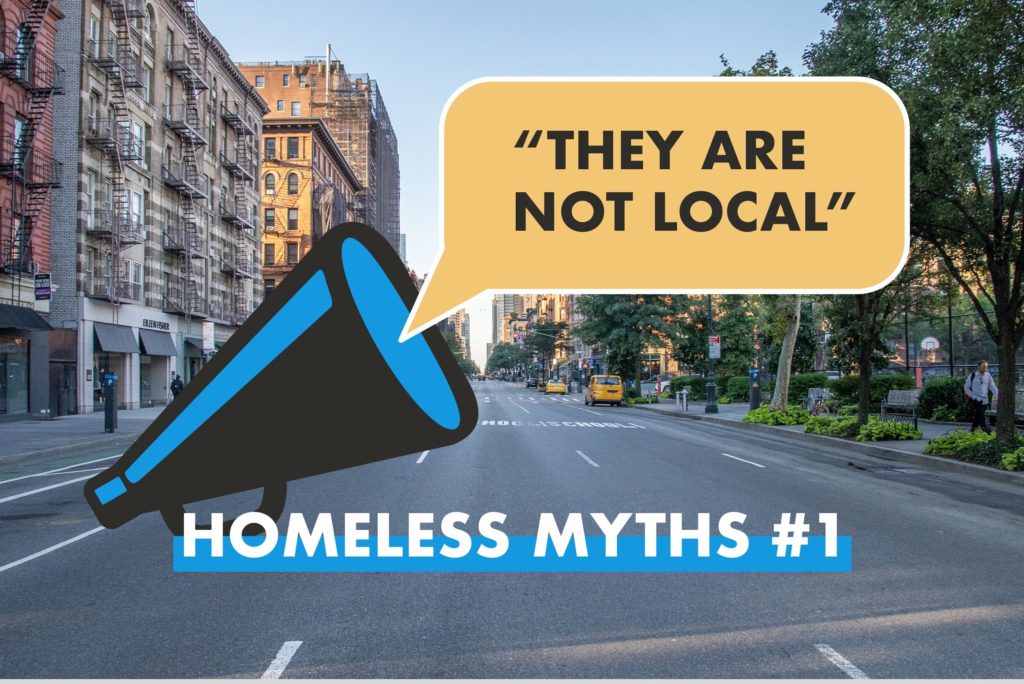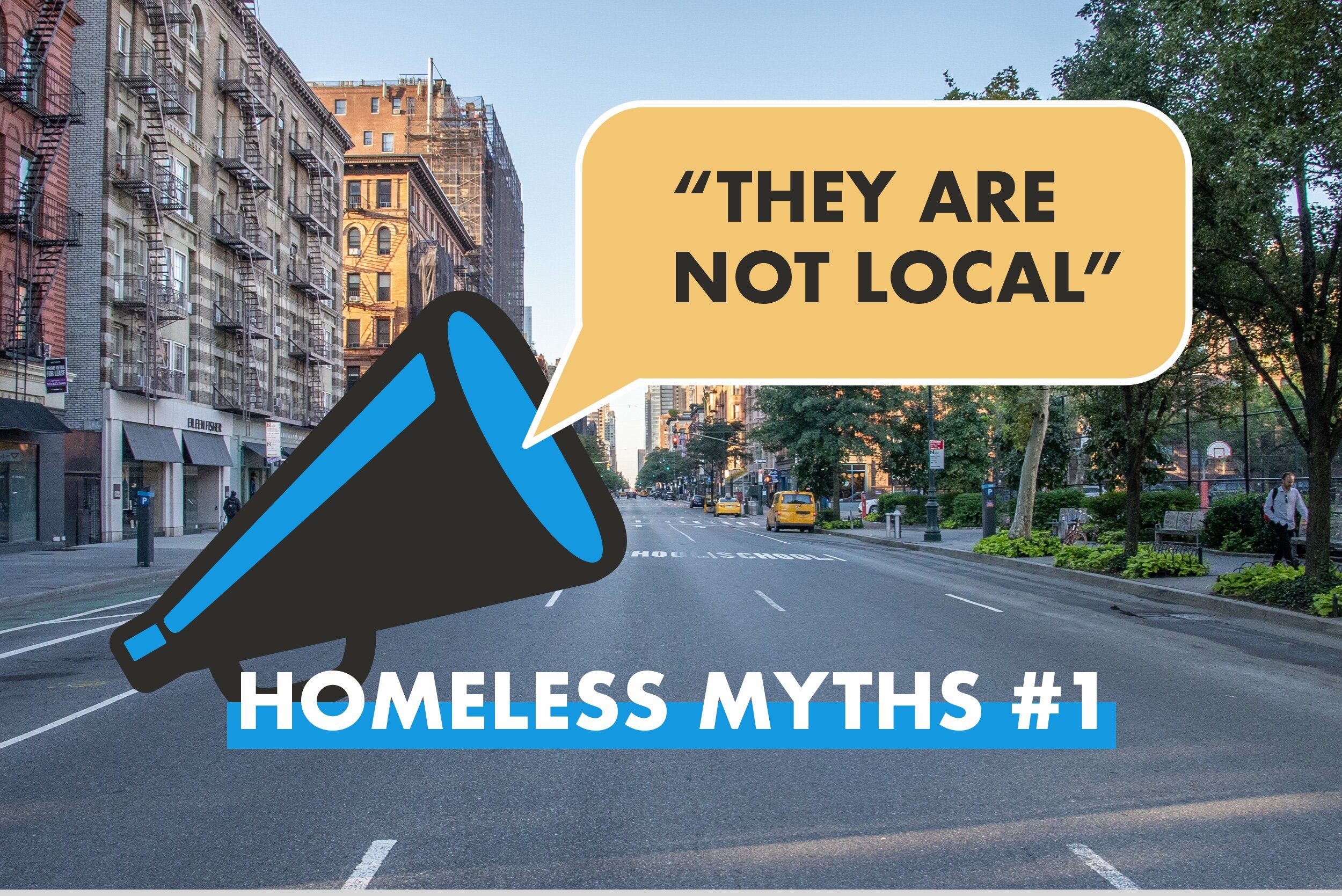 While the myths surrounding homelessness may seem benign, they can have real consequences for unhoused people. Public perception helps shape public policy. When we believe the worst about our homeless neighbors, they aren't shown the compassion and dignity they deserve. Getting back on the path to stability requires support that we should be eager to give.
As part of an ongoing series addressing myths about homelessness we begin with the myth that people experiencing homelessness in a given area are not local — that the majority of those in need have flocked to a given city in search of a handout and government services. It's not unheard of for someone housed to believe that their unhoused neighbors are transplants from another place. We'll explain the problem with this logic later, but first, let's look at some statistics. [Keep Reading]
7. Pallet introduces bathrooms for shelter villages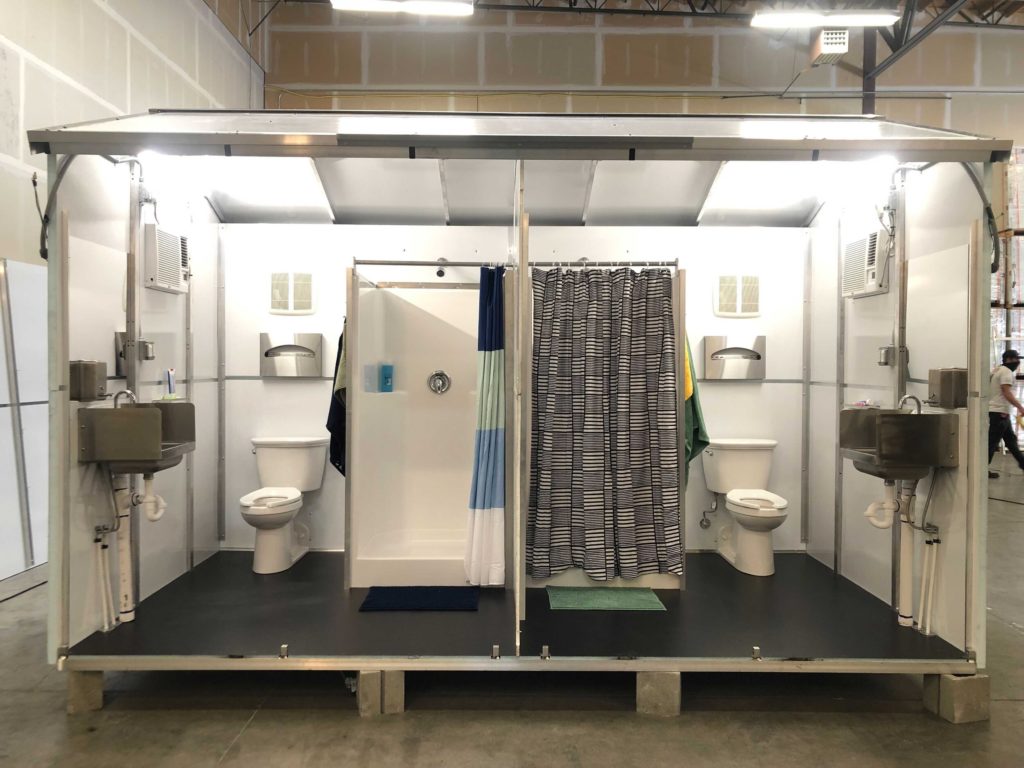 Ensuring Pallet Shelter Village residents have access to bathrooms is an integral part of our community model, along with on-site social services. Having a safe, private space for hygienic needs is one element of our commitment to creating a dignified community for people experiencing homelessness. We're excited to announce Pallet's engineering team has designed a series of bathrooms for communities. Five designs include various combinations of a sink, toilet, and shower. A tankless water heater assures that hot water will be readily available.
The new bathrooms are an evolution of our 64 sq. ft. and 100 sq. ft. sleeping cabins. The same material is used for the structure, aluminum framing and walls composed of fiberglass reinforced plastic with a foam insulating core. The team modified the basic structural design to meet its new purpose. This approach allowed our engineers to move quickly to meet this need. [Keep Reading]
8. Five tips to become a second chance employer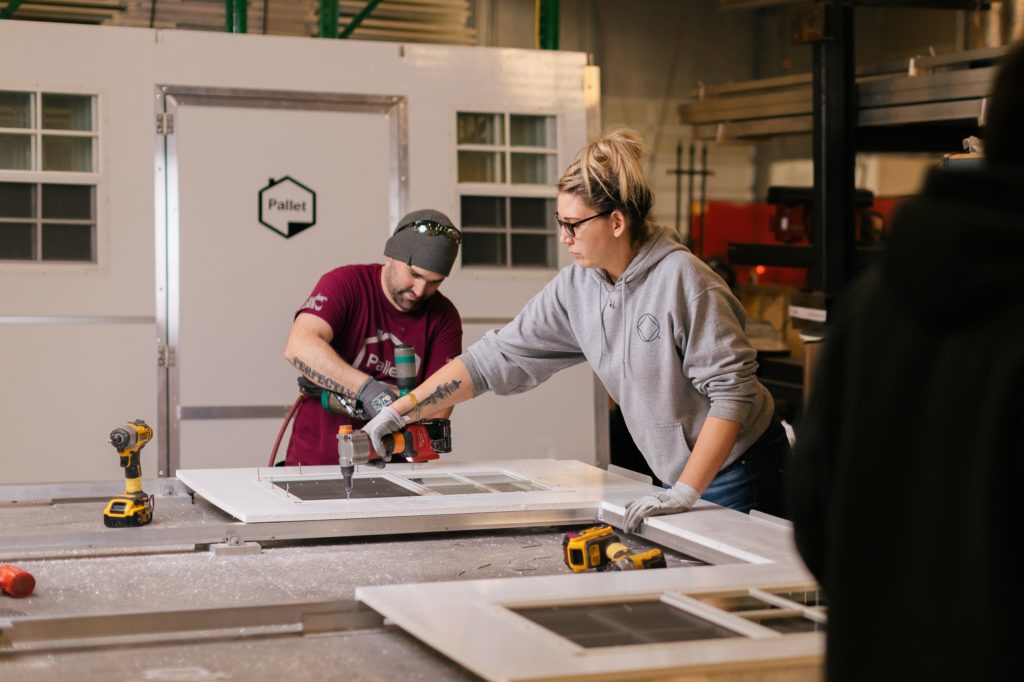 Pallet's nontraditional workforce is an integral part of our success. Temporary shelters are the foundation of our people-first restorative communities across the country for unhoused people. Because our team members have lived experience in homelessness, Pallet makes a product that uniquely meets the needs of people who have been living on the street. Their input is essential.
As a second chance friendly employer, we believe potential — not the past — defines people's futures. More than 80% of our employees are formerly homeless, in recovery, or previously involved in the justice system. Amy has shared her expertise with companies considering tapping into this hidden workforce. Here are her five tips to get started [Keep Reading]
9.  Veterans move into Pallet shelters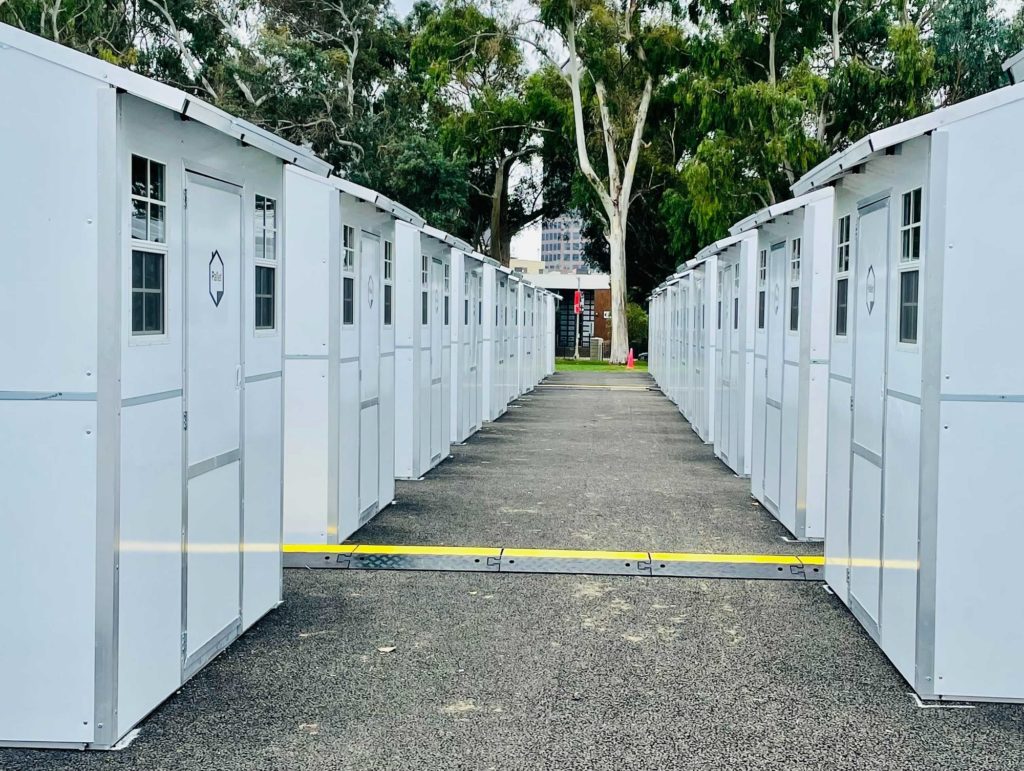 A group of people who served our country moved from unsheltered homelessness into dignified temporary housing. The new village is operated by VA Greater Los Angeles Healthcare System. It is located on their property in West Los Angeles. It's part of their Care, Treatment & Rehabilitative Services (CTRS) Initiative, a low-barrier-to-entry outreach program. There are a total of 28 Pallet shelters on site. Veterans are offered the shelters based on a priority list with the most vulnerable veterans receiving higher priority.  [Keep Reading]
10. From winter to summer Pallet shelters can weather the conditions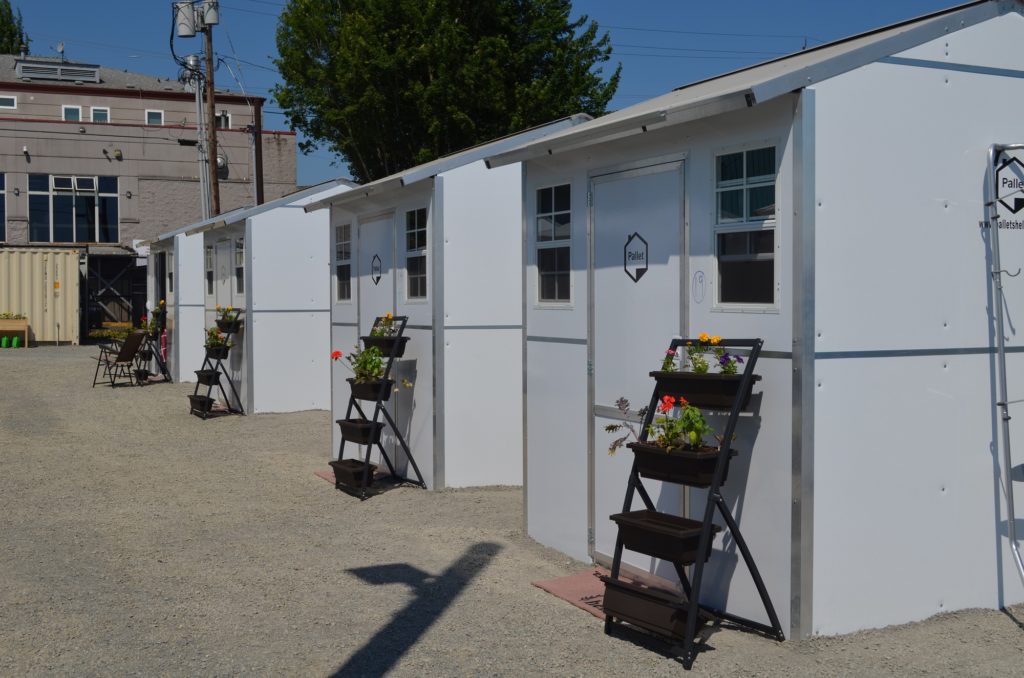 Pallet's mission is to unlock possibilities by building people-first restorative communities. There are Pallet shelter villages in 1 in 5 states with 3,000 beds and counting. Each location addresses the homelessness crisis with a resource net of social services and a safe place to sleep. As Pallet partners with local governments and nonprofit organizations to build transitional housing villages, it's crucial our shelters can withstand various weather conditions. People should have resources to stay cool in the summer and warm in the winter. Pallet's engineering team completed performance testing on the 64 sq. ft. and 100 sq. ft. cabins to refine our sleeping cabins' designs. [Keep Reading]