Four ways to fund a Pallet shelter village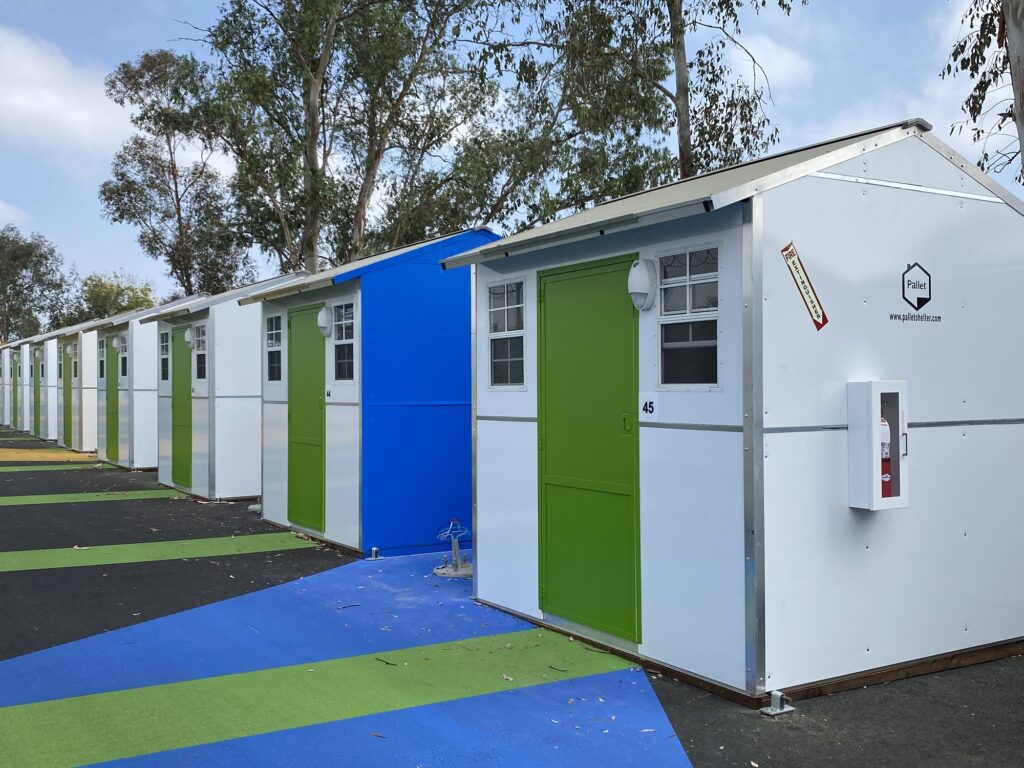 Pallet shelter villages serve as transitional spaces for people experiencing homelessness. They provide the dignity and security of private units within a community, along with a resource net of onsite social services, food, showers, laundry, and more to help people transition to more permanent solutions.
Several components to consider when building a village include identifying which Pallet shelters best suit the needs of the community, finding a site location, setting up infrastructure, and selecting a service provider. Funding is also crucial. Below are four sources that can be combined to fund the costs associated with creating a Pallet shelter village.
1. Federal Funds
The federal government has numerous programs available to fund aid for people experiencing homelessness. Notably, during the COVID pandemic, trillions of dollars became available. The $2.2 trillion Coronavirus Aid, Relief, and Economic Security (CARES) Act passed in March 2020. The $1.9 trillion American Rescue Plan Act (ARPA) passed a year later. Both legislative acts provided local governments and nonprofits an opportunity to take an innovative approach to the homelessness crisis.
New Beginnings, a Pallet shelter village in Fayetteville, Arkansas, initially used private funding to get the project started. Later, they used CARES money to purchase equipment and materials supporting village operations. 
A newly opened Pallet shelter village in Aurora, Colorado, used ARPA funding and Emergency Solutions Grants (ESG). ESG is a federal program to assist people to quickly regain stability in permanent housing after experiencing a housing crisis and homelessness.
Community Development Block Grants (CDBG) are also available. The U.S. Department of Housing and Urban Development (HUD) program supports community development activities to "build stronger and more resilient communities."
2. State Funds
States also set aside funding to address the needs of unhoused people. A Pallet shelter village in Everett, Washington, used funding from the state Department of Commerce. Specifically, the Shelter Program Grant funds "equitable and creative approaches to develop or expand shelter programs and bring people inside to quickly exit participants to permanent housing and positive destinations."
To help their local homeless neighbors endure the bitter cold of winter, Boston obtained funding from the State of Massachusetts. Unsheltered individuals struggling with substance use disorder were able to find refuge from the weather after this state funding was accessed—the Pallet shelters were assembled just 10 days after breaking ground on the site.
3. General Funds
General funds typically refer to revenue collected by a local government from various sources, including sales tax, property taxes, and fees. These funds can be allocated to Pallet shelter villages. In addition to state funding, Everett's service provider, Everett Gospel Mission (EGM), used money from their general fund to support the site. This funding was allocated by the City of Everett. Now that the site is up and running, EGM has been able to appeal to donors to fund the specific needs of the residents.
Sonoma County also utilized their general funds to address a growing crisis at the foot of the Joe Rodota Trail, where more than 200 unsheltered individuals were residing. The village, comprising 60 shelters along with onsite toilets, showers, and pet-friendly spaces, had residents moving in days after the site's parking lot was transformed into a dignified and safe living area for the local homeless community.
4. Private Funds
Fundraising from the community and appealing to benefactors is another option. After holding several fundraising events, New Beginnings raised $600,000. Later, a local philanthropist donated a $1 million gift to complete the fundraising for the capital project and provided two years of start-up support for their programming.
Various other grants and programs can also bring a Pallet shelter village to life: PetSmart and a local foundation helped homeless residents and their pets find refuge in Grand Junction, Colorado; the Homeless Housing, Assistance, and Prevention Grant made Riverside, California's village a reality; and Los Angeles' Veterans Village brought aid to unsheltered vets through the kindness of private donations.
Funding a Pallet shelter village is not a one size fits all model. With a bit of effort, the above sources, and sometimes even a combination, enable communities to provide private, secure, and dignified shelter for our unhoused neighbors.
Learn more about how Pallet shelter villages across the country have found success in various funding sources.